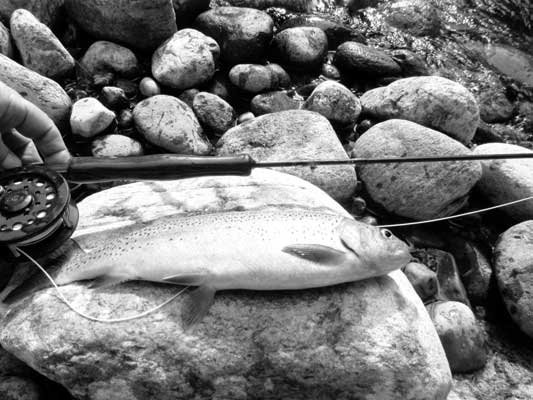 Serendipity certainly has its moments, and this time it provided me with one of my own.
As I reached down to pick up my rod, a beautiful brook trout slapped and skittered across the surface of the small, backwater pool.


The fish took my fly subsurface, without even the thought of an attentive twitch on my part. The little brookie appeared to be intent on committing individual piscicide, until I gently landed and unleashed him.
I held it up with my two fingers and admired it for the shear beauty of its markings, rather than for its diminutive stature, which was small, but feisty.
Obviously, no one in his school bothered to teach the youngster about the necessary cautions required when chasing a false slab of fur and feathers that's often found swirling beneath a dark cloud of a watery debris.
Although I only removed him from his watery lair for just a moment, he took off like a fish on a mission upon release.
It was nearly four o'clock by my reckonings when the afternoon sun slowly slipped beyond the far treeline.
Again, I went through the rites of a proper streamside retreat. I knew I needed to depart the caressing arms of the lonely stream, in order to escape her sweet babble.
She had held me in her spell for far too long, and now it was time to retreat!
Quickly, I repacked the small wicker creel, and restored numerous flies to my vest. My hiking boots were rebooted in an exchange with felt bottomed waders, and I was well on my way back to the truck when it struck me.
My favorite flyrod remained cradled in the careful arms of a small bush on the bank of the stream, way back down in the gorge.
I promptly deposited an armload of belongings in the back of the truck and hopped over the bank to return to the stream.
Joe Hackett is a guide and sportsman residing in Ray Brook. Contact him at brookside18@adelphia.net.
Vote on this Story by clicking on the Icon