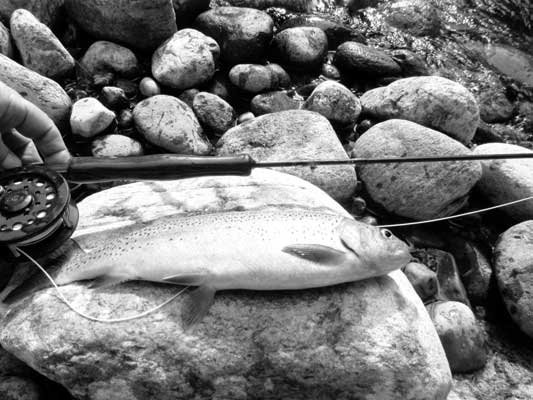 Recently, I was seduced by a small stream that continually calls me back to its banks for a final embrace, and just one last cast. There is no doubt the natural siren has my number, and she knows exactly what I need.
When I last visited, she provided me with a beautiful, sleek rainbow trout that was almost translucent in its all-natural, crimson and scarlet garb. Soon after the release, I was again contemplating an escape from the watery vixen, until my efforts were rewarded with another battle-worn veteran of the great piscatorial wars.
Although the old, brown trout was barely a nudge beyond 13 inches, it waged a battle worthy of a specimen far larger than his actual measure.
It possessed the punch of a heavyweight, and as it hunkered down in the swell of a small waterfall, it put up a fight far greater than his size would generally permit.
I battled him back and forth on his own terms, and he used the familiar environment to his advantage again and again. Eventually, after untangling my line from various streamside entanglements, I brought him to the shore.
Being careful not to mare his image in the handling, I gently twisted the hook upside down and shook him free.
Stunned for a moment, he soon swam slowly away before coming to rest in the shade of an overhanging rock ledge, which is when I believe I discerned a sly grin overtaking his wide, hooked chin.
I again attempted to depart the luxurious embrace of my steady and gentle streamside siren. In my mind, I had already shed my waders, and retired my vest to the riverbank.
In reality, my flyline was still on the water, and as my fly was sucked into a small eddy, a strong whirlpool pulled it under the surface.
Joe Hackett is a guide and sportsman residing in Ray Brook. Contact him at brookside18@adelphia.net.
(Continued on Next Page)
Prev Next
Vote on this Story by clicking on the Icon