Company is a low key, fun event where over 40 singles can have greght tember be at conversation and meet new friends. A group of interesting and lively over 40 singles recently gathered together to share conversation and enjoy a beautiful summer evening. Getting back into the dating world can be stressful, but gathering together in a low key setting makes the transition much easier. So, if you have ever felt "as single as a slice of American cheese", then mark your calendar for September 21st (and every third Wednesday) at The Champlain Wine Company and join us for Singles Night.
MONARCH BUTTERFLYS are being saved locally by some enthusiastic friends, THELMA DOUGLAS and BERT PAVONE, at the VILAS HOME. In conjunction with ADKaction.org; they are extending an invitation to local residents to plant milkweed seeds, which they have available, to provide the habitat that attracts these beauties. Help out by calling 563-4960, Thelma (x314) or Bert (x105).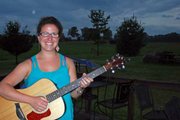 Singer/songwriter GIOVANNINA BUCCI is often seen playing her guitar and singing for FIRST FRIDAYS at CHEECHAKO TACO, at IRISES, and most recently at CONROY'S ORGANICS. Her newly released CD has a heartfelt, soulful sound, perfect for listening in your car or on your deck! Be sure to "Friend" GIOVANNINA on Facebook so you can enjoy her recordings.
When we make others successful, we surely reap the benefits ourselves. We remain true to our motto of "your success is our success". Try it…the least it can do for you is to make a new friend or two!!
Weekly FREE ADVICE is winding down for the season! You can still join us on First Friday and Wednesdays through mid-September from 5:30 to 7 at the Champlain Wine Company on City Hall Place.
For a life coaching appointment or for comments or questions; email us at yourstyleandsubstance@gmail.com
Vote on this Story by clicking on the Icon