continued — Fairgoers were fascinated with an exhibit by Mike Prescott of Chestertown, who talked of how politicians once sought to dam up the Schroon River, which would have submerged much of the region under a giant reservoir. The Friends of Chester Library hosted an exhibit with antique equipment for making paper by hand.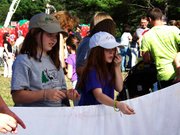 The Horicon Historical Society and various churches were represented with historical displays.
Greg Beckler of Natural Stone Bridge & Caves split geodes for people, explaining the multi-colored crystals revealed, while his son Bryan melted glass to create pendants and shot glasses.
Fishing guide Chris Stiles tied flies while outdoor enthusiasts watched. Bernie Hill of E-Z Marine & Storage of Brant Lake displayed to fairgoers an array of watercraft and accessories he sells.
North Warren Art Teacher Erica Leonard manned a student art display, while her teen artists browsed at the fair.
At another booth, artist Fred Holman of the Art in Chestertown Gallery painted the fairgrounds as passersby watched.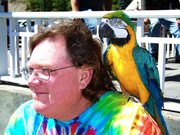 Nearby, Sandra Weber of Elizabethtown signed her books detailing the lives of prominent Adirondack women. She had portrayed one of them, Jean Robert Foster, in the earlier parade.
In a booth not far away, Wayne Bukovinsky manned a booth selling hats, mugs and other collectibles for the charity he founded, the North Country Hardship Fund.
Horicon Town Board member Matt Simpson, on the event-planning committee, watched the fair crowd, moving among the various booths.
"We had no idea it would turn out like this," he said, noting that Chester and Horicon might collaborate more often on holding events. "I've never seen anything similar around here in my lifetime."
Fellow board member Bob Olsen offered a similar comment.
"This proves the two towns can come together — and accomplish something incredible."
Sylvia Smith, who co-chaired the event with Nancy Tennyson, said she had worked around the clock for two weeks making sure all the details were in place.
Vote on this Story by clicking on the Icon