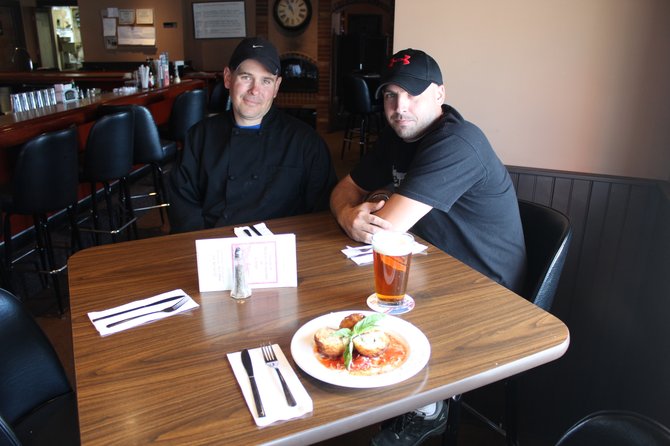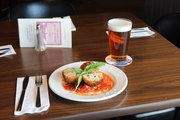 For the Risotto:
-1/4 cup olive oil
-1 medium white onion, finely chopped
-1 pound Arborio rice (about 2 1/3 cups)
-4 cups India Pale Ale
-3 cups stock or low-sodium chicken broth
-1/2 cup finely grated Parmesan cheese (about 2 1/2 ounces)
For the filling:
For the filling:
-1 1/2 cup shredded smoked Gouda cheese (about 12 ounces)
-1/2 pound diced grilled shrimp
For frying and serving:
-2 to 2 1/2 quarts vegetable oil
-1/2 cup all-purpose flour
-Kosher salt
-Freshly ground black pepper
-4 large eggs
-1 1/2 cup, unseasoned Panko bread crumbs
-Basic tomato sauce or marinara sauce, warmed for serving
Medium pot
Oil medium heat
Sauté onions until translucent
Add rice and sauté briefly
Add beer and simmer, until mostly absorbed
Add chicken stock 1 cup at a time, occasionally stirring until absorbed
When rice is cooked tender, add Parmesan cheese
Cool rice completely
Form rice into 4 ounce balls
Mix cooled cooked diced shrimp, basil, and shredded smoked Gouda cheese, and form into small balls
Create a pocket in risotto ball fill with cheese stuffing, and seal off pocket
Flour, egg wash and bread balls
Fry at 300 until golden brown and heated through, serve over warm marinara.
Plattsburgh — The flavor at Mickey's restaurant in Plattsburgh is definitely that: local.
But even with a head chef and a sous chef who are both from the Champlain Valley, and who cut their culinary teeth working in local kitchens in and around Plattsburgh, the dinner menu at Mickey's is far from the status quo.
Head Chef/Kitchen Manager Kevin Hornby is a Peru High School and Plattsburgh State University graduate, with a degree in hotel and restaurant tourism. His Sous Chef Brandon Kelley, from Ausable, graduated from Paul Smith's College with a degree in culinary arts.
"It basically started as a way to pay the bills," Hornby said. "Moving out and going to college, it's a pretty easy job to get into."
(Continued on Next Page)
Prev Next
Vote on this Story by clicking on the Icon