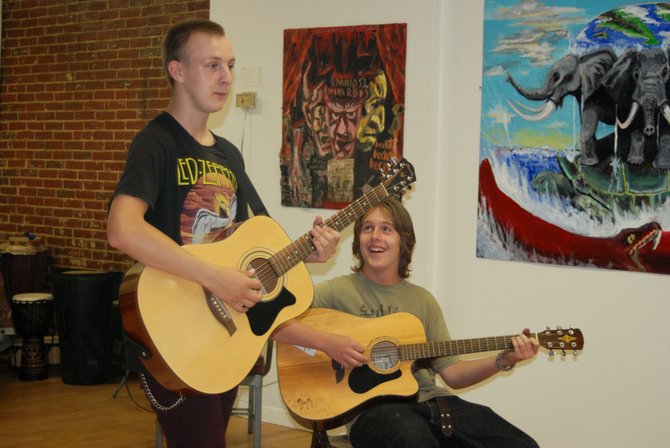 Plattsburgh — The ROTA Gallery is offering local poets, musicians and other talented artists an opportunity to showcase their talents during Open Mic Poetry Night every other Thursday at 50 Margaret Street.
Several local talents have already showcased their flair during Open Mic Poetry Night (OMPN), said ROTA OMPN organizer, Chris Ostuni.
"Whatever talent you have, we want people to come out and share it," Ostuni said.
During the event, the gallery opens itself to performance artists of all mediums, bringing fast-paced spoken word, challenging limericks, slam poetry, softer and from the heart pieces, as well as original comedy routines and musical performances.
"One thing people tell me is they enjoy coming out because the performances are so diverse," Ostuni said. "There is a lot to enjoy and people can easily identify with so much diversity."
ROTA has been hosting OMPN since its beginning. Ostuni said the gallery continues popular night, bringing in featured performers to open proceedings and giving a mic and an audience to anyone with something to share.
The range of entertainment is as broad as the performers themselves. The performances are uncensored, open to all ages, and are a drug/alcohol free venue to offer a place really focused on expression and empowerment, Ostuni said.

Each OMPN showcases the talent of a local artist as the featured performer. The next OMPN will be held Aug. 29 beginning at 8 p.m. with featured performer, Michael Carrino, a local poet and artist. Carrino will also hold a show at ROTA later in the fall. He holds an masters in writing from the Vermont College of Fine Arts. He was an English lecturer at the State University College at Plattsburgh, where he was a cofounder and poetry editor of the Saranac Review. Since his retirement, he has continued his involvement in the Saranac Review as an associate editor of poetry. He has had five books of poetry published: "Some Rescues," "Under This Combustible Sky," "Cafe Sonata," "Autumn's Return to the Maple Pavilion" and "By Available Light" as well as individual poems in numerous journals and reviews.
(Continued on Next Page)
Prev Next
Vote on this Story by clicking on the Icon