Let Us Know
To submit an item for publication go online to www.the-burgh.com or drop us an e-mail at Katherine@Denpubs... or northerncalendar@...
For additional information, call Katherine Clark at 873-6368 ext 208.
24-hour Carousel - A - Thon at Saranac Lake
SARANAC LAKE —24-Hour Carousel-A-Thon fundraiser to benefit the Adirondack Carousel, 2 Depot Street, noon (Aug. 23) to noon (Aug. 24).
The Adirondack Carousel will be partying all night and all through the day Aug. 23 - 24. There will be a theme party for every hour with radio host Paul Varga of WSLP 93.3 radio.
The event will include 24 hours of live auctions, a barbecue, midnight movies that will include "Grease," jump houses and kid's activities in the park, clowns, a "Ride-A-Thon" challenge and much more.
For complete schedule or for more information about the Carousel-A-Thon or the Adirondack Carousel go to adirondackcarousel.org or call 891-9521.

Funked Up Fairy Tales at Depot Theater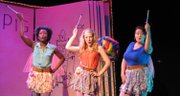 WESTPORT — "Funked Up Fairy Tales" opening performance to be held at the Depot Theater, 6705 Main Street, on Friday Aug. 16 at 8 p.m. Additional performances will be held through Aug. 25.
Funked Up Fairy Tales is a collection of delightfully twisted fairy tales for sophisticated children and grown-up kids. Welcome to the world of Titania, Faireetheeya, and Magikwanda, three street-smart teenage fairies with plenty of wise-cracking attitude - and a final Fairyland Academy exam that they must pass to graduate and earn their Happy Ending Crowns. In the process, they turn things upside-down, all to a soundtrack of genre-bending songs that all ages will be singing for days afterward. Funked Up Fairy Tales is an off beat cartoon brought to life onstage, with jokes, songs, and characters that will appeal to all ages, those young of years and those young of heart.
Tickets are $29. For more information call the theater at 962-4449.
(Continued on Next Page)
Prev Next
Vote on this Story by clicking on the Icon