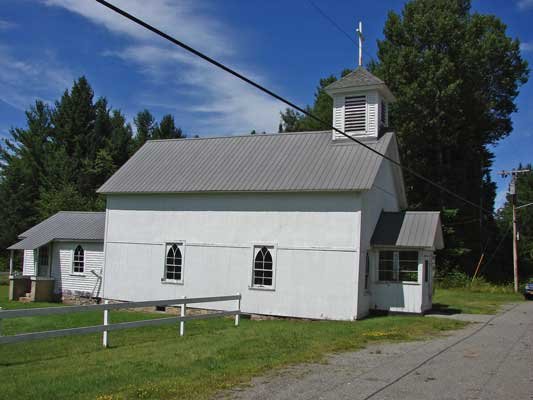 Chilson — Chilson Founders is a new not-for-profit organization of local residents who have banded together to preserve and maintain the former Chilson United Methodist Church building on Putts Pond Road, as well as other landmark properties in Chilson, including Chilson Cemetery.
Chilson Founders will hold its kick-off fundraising event, an old-fashioned community pig roast, Saturday, Sept. 28, at noon at the Chilson Community Center, 60 Putts Pond Road. The event will include music, games and raffles, and the pig roast will be served at 2 p.m. Raffle prizes include an original painting of the Chilson Chapel by local artist Britney Shaw, a handmade quilt by Chilson artisan Catherine Trybendis and harvest baskets by area residents. Tickets are available by calling Margaret Lauman at 585-9133 or Elise McClintock at 585-7739.
The little white church on Putts Pond Road was built originally as a lodge hall ("The Patrons of Industry") in the early 1890s, but in 1898 was remodeled and dedicated as a Union Christian Church, free to all denominations. In 1916 the Union Christian Church was incorporated as a Methodist Episcopal Church, in which role it continued for almost a century.
The church finally closed its doors in 2008 and now the Methodist Conference has made it possible for Chilson Founders Association to take over the property as a community landmark. This past July Chilson Community Founders Association, Inc., received and recorded title to the church, which has been renamed The Chilson Chapel.
Plans are also under way for a dedication ceremony and service on July 27, 2014, as part of the celebration of Ticonderoga's 250th anniversary.
Vote on this Story by clicking on the Icon