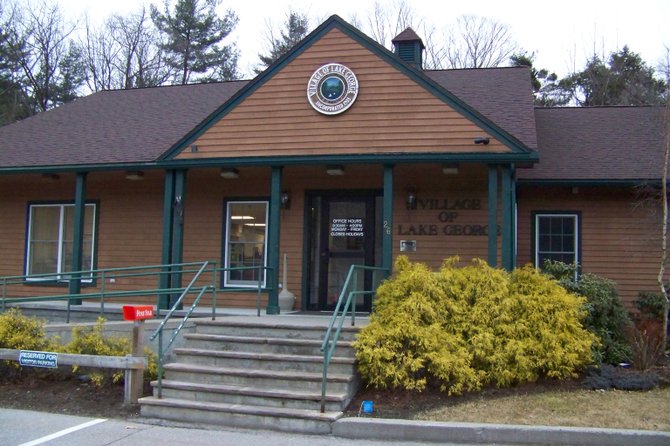 LAKE GEORGE — Village officials voted Monday Aug. 19 to streamline local ordinances regulating soliciting and passing out leaflets in order to comply with prevailing Freedom of Speech rights.
The many amendments of the village soliciting and zoning ordinances include making it easier to obtain a permit to solicit funds or pass out printed material — and eliminating the fee for doing so — as well as shortening the advance time required for a permit.
The revisions are in response to a legal claim filed by an individual who during a recent Americade event was standing on a village sidewalk, wearing a sandwich-board sign and passing out leaflets, village officials said this week. The revisions to the laws may be an element in negotiating a settlement in the individual's lawsuit, sources familiar with the situation said. A call placed to the village attorney was not returned by press time noon Aug. 20.
In other business, the village board:
• heard from Mayor Bob Blais that village officials will be meeting with Warren County Sheriff Bud York to strategize how to reduce the extreme traffic congestion occurring annually after the Fourth of July fireworks. Blais said that on July 4 this year, traffic was backed up so severely that it took up to 90 minutes for visitors to get out of the village after the show ended, and even the back streets of the village were jammed with vehicles. Officials of local emergency services agencies sent letters recently to the board citing that public safety was compromised by the traffic snarls.
• voted to contribute $12,500 this year towards the ongoing effort to eradicate Asian clams in Lake George. The towns of Bolton, Lake George and Queensbury have already made such a pledge toward a $600,000 effort.
•heard a request from Lisa Giknis of the Dog Cabin enterprise on Montcalm St. to place a 7-feet-tall Adirondack chair on the sidewalk in front of her commercial building in order to draw customers up from Canada St. Blais said that such an encroachment on village property prompted legal considerations and liability exposure. Board member John Root said he opposed the proposal because it would present too much of an obstruction to pedestrian traffic. Giknis then suggested placement of an additional bench rather than the giant chair. Blais said the issue would be referred to village attorney Matt Fuller, and that Giknis would have to pay for the legal expenses involved, if she chose to pursue the idea.
(Continued on Next Page)
Prev Next
Vote on this Story by clicking on the Icon