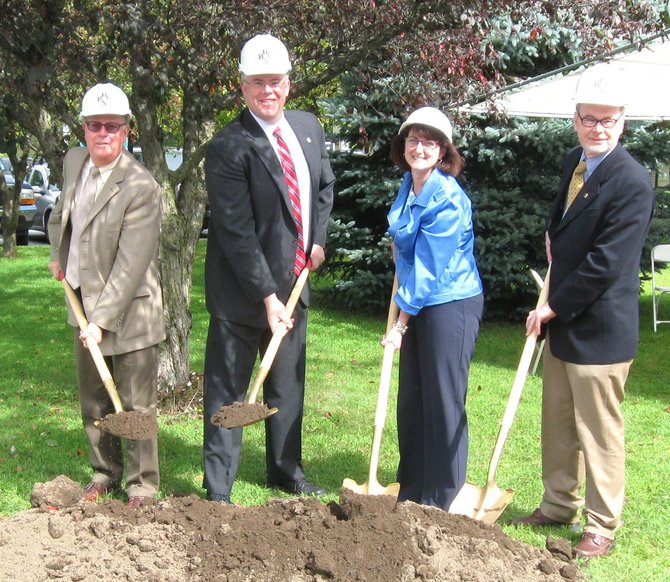 continued — At the ground-breaking, Rugge said that if it were not for the Warrensburg Health Center, many of these patients would go without care — rather than travel long distances to obtain the care they should have.
"We are committed to keeping our services available to everyone, regardless of income or insurance," he said.
Rugge has predicted that the expanded facilities will prompt the creation of 15 to 20 new jobs, likely in stages, from its present roster of about 100. Hudson Headwaters has historically offered stable employment with competitive pay and benefits to area residents.
At the ceremony, Assemblyman Dan Stec praised Hudson Headwaters for historically following through on its commitments to area communities by providing quality health care for all.
Rugge and Glens Falls Hospital CEO Dianne Shugrue both talked about how the two organizations would go forward working together to provide the best, most efficient health care services for the region.
Warrensburg Supervisor Kevin Geraghty said that the building, with its architectural stylings, would be welcome on the community's streetscape — as would be the addition of solid employment opportunities.
"I couldn't be more pleased with the investment here in our town," he said, predicting that the new health center would draw ever more patients and visitors in the future. "This state-of-the-art health care facility will change the face of Main St. for many years to come."
Funds to build the health center have been pledged from a variety of sources, including a $5 million federal grant, and $400,000 that the Warren County planning office secured from the state Office of Housing and Community Renewal.
To raise additional funds, Hudson Headwaters has kicked off a capital campaign with a goal of $1.9 million, Rugge said.
"We've already raised more than $1.3 million thanks to generous pledges from the board of the Hudson Headwaters Health Foundation, the Network Board and senior administrators, plus local benefactors," he said, noting that the Charles R. Wood Foundation has made a $250,000 commitment to the project, the Dake Family Foundation and Stewart's Shops have together committed $150,000, and the Wright Family Foundation has pledged $30,000.


Donations to the campaign can be made online at www.hhhn.org, or through the mail to the Hudson Headwaters Health Foundation, 9 Carey Road, Queensbury, NY 12804. For more information, contact Howard Nelson at 761-0300 or: hnelson@hhhn.org.
Vote on this Story by clicking on the Icon