Ticonderoga — After four years on the job, Deb Malaney is just beginning to feel comfortable as Ticonderoga's town supervisor.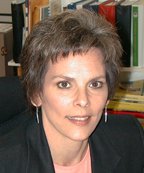 "I'm finally at a point where I feel I'm effective on the town level, as a county representative and as advocate on the state and federal levels," Malaney said. "There's so much to this job; there are so many diverse responsibilities — water, sewer, police, assessments, codes enforcement, youth needs, senior citizen needs, quality of life issues, cultural activities, economic development, social issues.
"The first two years there was a steep learning curve," she continued. "The last two years have been about developing relationships with our county, state and federal legislators. It's been a blur."
With that experience, Malaney feels she's well prepared to lead Ticonderoga into the future. That's why she's seeking a third two-year term as Ti supervisor.
Malaney will face challenger Bill Grinnell in the Republican primary Sept. 10. Regardless of the outcome of that vote, both will remain on the ballot for the Nov. 5 general election on the independent line.
Malaney said her greatest accomplishment as supervisor has been holding the line on taxes. Ticonderoga has always met the state's 2 percent tax cap on her watch.
"The biggest success of my tenure is the huge savings of taxpayer money with grants and cost cutting efficiency measures that allows us to maintain our critical services and programs and keep town employees working," she said. "We have secured over $10 million in grant funding for town improvements, treatment plant and infrastructure upgrades, completed seven critical sewer and water replacements at little cost to taxpayers, upgrades to airport runway, road, and a fuel base operation coming. Many town wide improvements to parks, walking trails, including the new Alexandria Avenue trestle and sidewalk project. We've applied and received grants for energy efficiency in town buildings, for Lake George stormwater runoff protection and a myriad of planning grants. We've done much new infrastructure work and more to come, Meyer Street, St. Claire, John/George Street, Park Avenue, Streetroad.
(Continued on Next Page)
Prev Next
Vote on this Story by clicking on the Icon