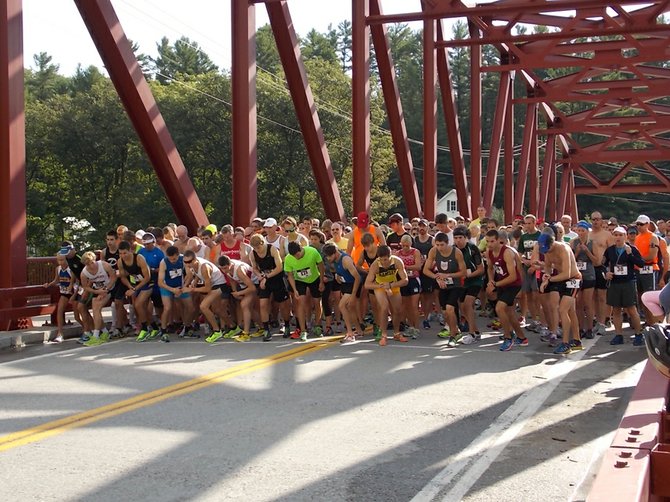 North Creek — A total of 312 runners turned out on Saturday, Aug. 3 for Race the Train's 11th year. In this 8.4 mile contest between human and machine, 85 runners beat the train this year. At 9 a.m. the large group of determined runners set off from the Riparius Bridge on their quest to beat the train to the North Creek Train Station.
Jill Pederson, one of the principle organizers, was very happy with this year's race.
"We had the best field of runners ever, with three former winners returning and a new record being set," Pederson said. "The weather was perfect for an August run and I received lots of compliments from runners and spectators alike."
She also praised Dan Olden of Do–Right Timing, who always gives the race a good deal. While some races pay as much as $1,200 for timed results, he only charges them $300.
"His results are always accurate and fast in coming. We never worry about that aspect when he's in charge. Dan is the man for timing," Pederson said.
This year's winner, Alex Benway of Queensbury, broke the previous course record of 45:09, coming in at 44:37. Last year's winner, Paul Allison, came in third with a time of 45:57 and the previous course record holder, Devin Cornwall, came in fifth with a time of 46:20. All of them agreed that this year's race featured a tight group of talented runners at the head of the pack.
"These guys put up a tough fight. I didn't look behind me because I didn't want to psyche myself out, but I could feel the others nearby. It wasn't until around the 8 mile mark that I knew I was ahead," Benway said.
This is his third victory. He previously won in 2009 and 2010. He first heard about the race from Jill Pederson, who he knows well from their membership in the Adirondack Runners Club.
(Continued on Next Page)
Prev Next
Vote on this Story by clicking on the Icon