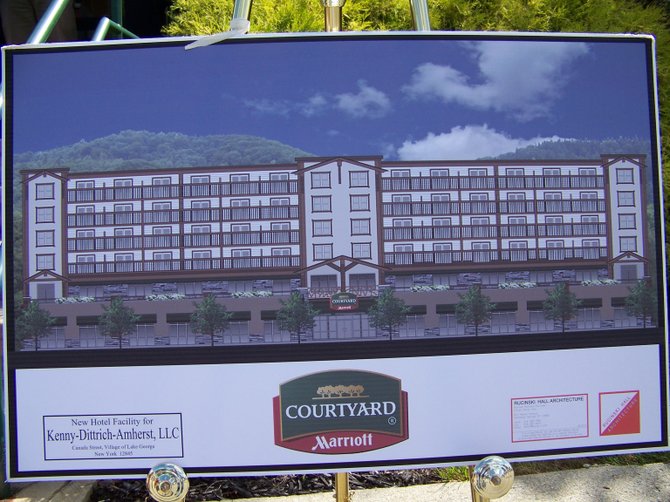 continued — "I'd like to see the back streets of Lake George full of families again, like it was decades ago, with children walking to school," Kenny said, adding that he had expectations his hotel development would revitalize the community and keep the young adults from moving away in search of better career opportunities. "I want my grand-kids and great-grandchildren to live in Lake George — and I think this will be great for the community."
Kenny said that Marriott would be providing extensive international promotion for their Lake George hotel, which would in itself boost area tourism remarkably.
When asked if the hotel would crimp business for area motels, Blais said that the overflow from conferences would fill other local accommodations. He observed that Americade started at Roaring Brook Conference Center in the early 1980s, but now fills dozens of motels in the region to capacity for a week. A study has indicated Americade generates more than $40 million each year for the local economy.
"A rising tide helps all businesses," Kenny responded.
Bill Manion, owner of Molly Malone's Irish Gifts, said he at first opposed multi-story hotels in the village because of the change to the local skyline, but now supports the Marriott project. His store — one of the relatively few businesses in the village now open year-round — would be within several hundred feet of the hotel's front door.
"I stepped back and thought about it, and changed my opinions," he said. "My store will definitely be helped, but this hotel will also be great for all of Lake George."
Representatives of a half-dozen unions were present at the press conference, seeking assurances that local laborers, union members, would be hired to build the hotel.
Zack Middleton of the International Brotherhood of Carpenters Local 291 commented on their objectives.
Vote on this Story by clicking on the Icon