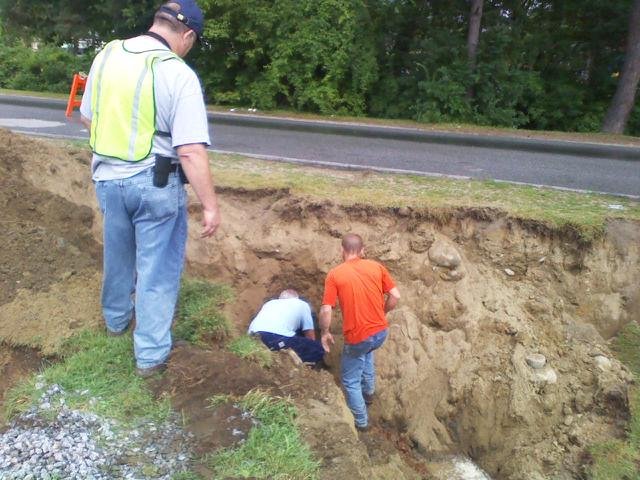 continued — Also, Dickinson pledged to investigate an apparent water leak in the Diamond Point water system. Hurley reported that 33,6500 gallons were now flowing through the system, which serves only 67 households or small businesses — a rate that Dickinson said was far too high to represent actual usage. Hurley suggested installing meters at various branches of the system to determine where the water was going.
Oil or gasoline slicks contaminating waters at local beach
In another matter, Dennis Dickinson said he was concerned about petroleum pollution of lakewater at Diamond Point beach, and that four incidences had recently been reported. He said that state Department of Environmental Conservation officials had been notified, and that they were investigating. Local resident Mike Segulic has reported for years about algae growth at the beach as well as ongoing pollution there. An email he circulated last weekend reported that the pollution reached a point that lifeguards had kept swimmers out of the water.
The board heard a report, however, that water samples were taken from Lake George at Diamond Point Beach and Usher Park beach, and they tested clean, with a lower fecal bacteria count than in recent years.
Legal action initiated against Salvadore
In other business, the town board:
• authorized legal action against John Salvador, a local landowner, to recoup logging-related damage to Shaw Road Extension. Dickinson said Salvador was now under a court order to pay the town $14,225, but had not yet done so. The board's resolution instructs the town attorney to seek that sum plus fines, and attorneys' fees. Salvadore, present at the meeting to comment on other issues, said he was unaware of any court order to pay the restitution.
• heard from board member Marisa Muratori that site work had been started at the new Price Chopper shopping plaza development just south of the Warrensburg town line off Northway Exit 23.
Vote on this Story by clicking on the Icon