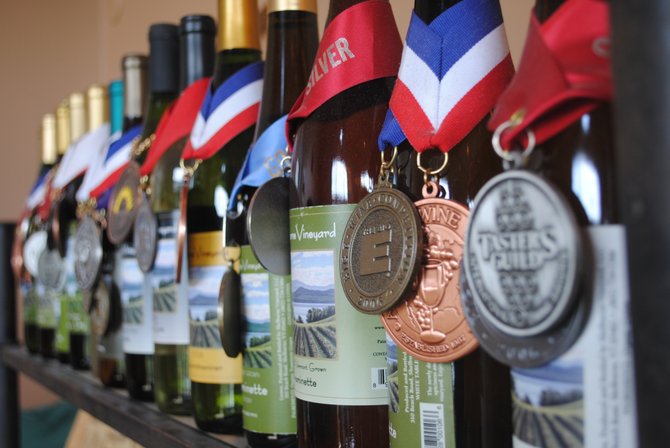 continued — According to owners Gilles and Mary Fortin, "Our mission is simple—make great tasting wines and sell them at an affordable price, treat all of our customers as friends and family, and try our best to help and support our community. It is this mission that has made us an extremely successful small farm winery."
839 N.Y. Route 9
Chazy, N.Y. 12921
Tasting: For tasting details and directions, call 518-215-4044 or e-mail: mary@amazinggracevineyard.com.
East Shore Vineyard
Grand Isle, Vt.
Owners Bob and Linda Livingstone love the fact that Vermont's budding wine industry has taken off like a moon rocket in the past decade, all thanks to cold-climate grape hybrids that can withstand our cold winters.
"We carefully cultivate 11 acres of these Estate Grown varietals at our lakefront vineyard in Grand Isle," the Livingstones said. "We also have several vineyard partners throughout the state that help supplement our harvests. Since our final objective is to produce quality wine, it is important to remember: Healthy, balanced vines equal quality fruit equal quality wine."
28 Church St.
Burlington, Vt.
Tasting: You can sample East Shore's fine selection of wines at a bright and cheery tasting room at 28 Church St. in downtown Burlington. Call 802-859-9463 for details.
Elfs Farm Winery and Cider Mill
Plattsburgh, N.Y.
Elfs Farm is a small family farm winery. The Frey family produce locally grown cold-hardy grape and other wines. Opened in 2006, the first grape wines were produced in 2007.
"Besides our wines we have in our store Adirondack-theme gifts, such as shirts, sweats, and hats. We also carry home wine and beer making supplies," according to the Freys.
Tasting: Elfs Farm is located at 7411 State Route 9 in Plattsburgh, N.Y. To visit, call 518-563-2750 or e-mail info@elishama.com.
Hid-In-Pines Vineyard
Morrisonville, N.Y.
"We grow a variety of Cold Hardy Wine Grapes, developed for the colder harsh environments here in northern New York," according to sole proprietor Richard Lamoy. "These varieties shrug off cold temperatures and snows so that we might bring you great tasting wines from our own estate-grown grapes. Some examples of the varieties are Marquette, Frontenac, St. Croix, LaCrescent, St. Pepin and LaCrosse."
Vote on this Story by clicking on the Icon