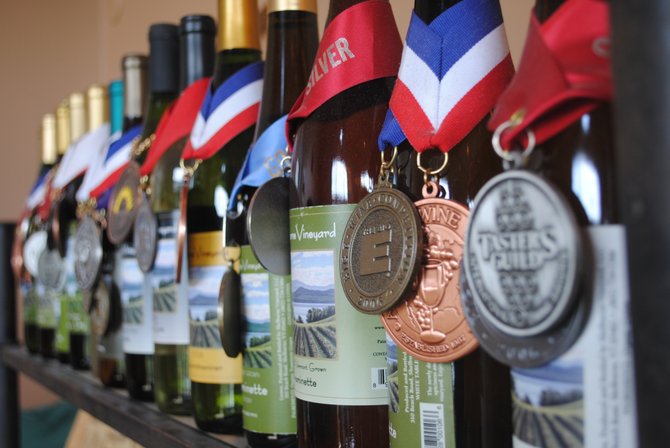 continued — And as if by magic, Champlain Valley wine pioneers like Ken and Gail Albert of Shelburne Vineyard in Vermont and Dan and Nancy Vesco of Vesco Ridge Vineyards in West Chazy, N.Y., seemed to emerge with the same idea at the same time during the 1990s and early 2000s—plant Swenson's new wine-grape varieties where Lake Champlain's mini "maritime" effects are best. "In vino veritas; cold weather be damned," these pioneers of the grape must have said in unison.
Both the Vermont Grape Wine Council and the New York Wine & Grape Foundation are closely involved with helping grow their respective wine-regions.
Since Vermont doesn't have a big Finger Lakes or Long Island equivalent to occupy its attentions like New York State, the Green Mountain State seems more visibly engaged in growing its side of the Champlain Valley wine region. No matter, there's still room for competition here; America's love of wine is ripening as it reaches out for new and interesting artisan wines appearing in unusual regions like northern New York and Vermont.
Now comes the fun—
We've sampled and visited many of the best wine-grape growers and wine producers in our region. We created this handy guide to the best grape and wine producers our region has to offer. All producers are small and family owned, which adds to the loving care each bottle of red and white—and ice—receives. Also, all vineyards have websites, so you can search for more information about each one online.
If we missed a vineyard or winery this time around, please forgive us. Let us know, as we're likely to return to this delicious subject in a future story.
Salute!
Amazing Grace Vineyard and Winery
Chazy, N.Y.
Amazing Grace Vineyard and Winery started in 2008 and is family owned. The operation specializes in cold-hardy northern varietal grape wines (and other fruit wines).

Vote on this Story by clicking on the Icon