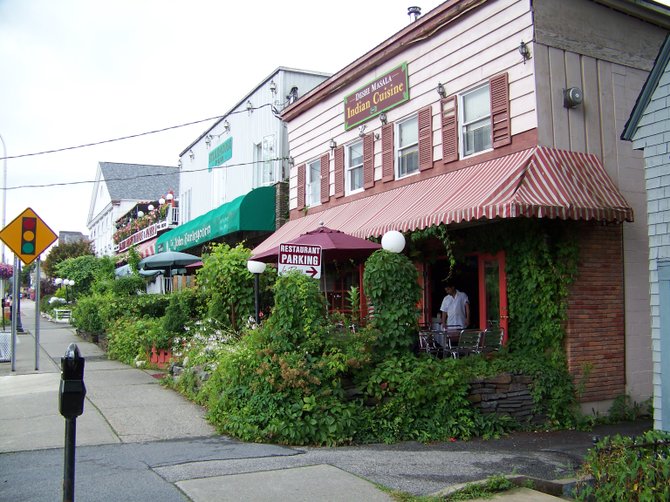 continued — "There's definitely a need for conference facilities in downtown Lake George," Kenny said.
Several of the upper levels would be stepped back to create exterior visual appeal, and many of the guest rooms would have balconies, he said.
Kenny recently acquired several properties along Canada St. north of Giuseppe's Restaurant for $2.8 million to accommodate the hotel. He said that Giuseppe's Pizzeria on the south side would be retained, but the restaurant of the same name — next door to the north — would be torn down, along with the other adjacent buildings he recently acquired. Those buildings now host the Sicilian Spaghetti House, John Barleycorn's Pub and Deshi Masala Indian Cuisine.
Demolition could begin as soon as this fall, if the village planning board approves the plans soon enough, Kenny said.
At the Aug. 5 village meeting, the trustees approved the concept of signing over the title of Parrott St. — an access road behind Canada St. — to Kenny for a sum to be negotiated. Kenny now owns the land on both sides of the roadway, Blais said.
Construction of the new hotel could begin this next year, Kenny said at the earlier public hearing.
"This hotel could revitalize Lake George, and bring people in from all over the world," he said.
At Thursday's press conference, Kenny will officially submit drawings and site plans for the new hotel. Kenny also owns The Inn at Erlowest, the Clarion Inn, the Adirondack Outlet Mall and Marine Village motel on Lake George.
Before any construction occurs, the plans for the Marriott must be approved by the Adirondack Park Agency, which decided earlier this year it wouldn't exert jurisdiction over six-story buildings in the village.
Blais said the development proposal was historic for his municipality.
"This project is the largest proposed in the Village in several years, and is expected to be the stimulus for other investments and revitalize our resort community," he said.
Vote on this Story by clicking on the Icon