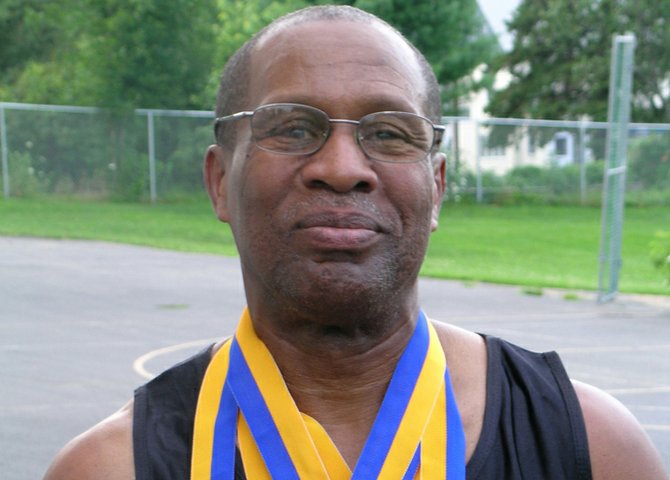 Ticonderoga — Walt Thorne has beaten Father Time, along with everyone else in the world.
The Ticonderoga track and field athlete claimed three gold medals at the World Fire and Police Games in Belfast, Ireland, last week. The Olympic-style competition was held at the famed Dane Mary Peter Track with more than 60 nations represented.
Thorne won the 200 and 400-meter runs and ran a leg on the winning 400-meter relay team. He took silver medals in the 100-meter dash and 1,600-meter relay.
In his 400-meter championship run, Thorne was clocked in 68.12 seconds, making him one of only a handful of people in the world able to cover 400 meters in less than his age. Thorne is 73.
"In the 400 meters I accomplished my goal of running faster than my age," he said. "I also broke my (personal) record of 71, which I set in 2011. To run 68.12 was a complete surprise to me."
His 68.12 clocking makes him the fourth fastest American in his division in the 400 meters.
The defending champion in 200 meters, Thorne won that event in 30.88 seconds. It was another personal best for him. His time in the 200 is the 11th fastest in the U.S.
Thorne also got a gold medal by running a leg on the winning 400-meter relay team. The team turned a 57.33 clocking.
Thorne, who is coach of the Ticonderoga High School indoor and outdoor track teams, was second in the 100-meter dash in 14.98 seconds. Robert Simmons of California won in 14.28.
In the 1,600-meter relay Thorne and his teammates were second. That quartet was clocked in 5 minutes, 2.85 seconds.
The 2015 World Fore and Police Games will be held in Fairfax, Va. Thorne plans on competing.
Vote on this Story by clicking on the Icon