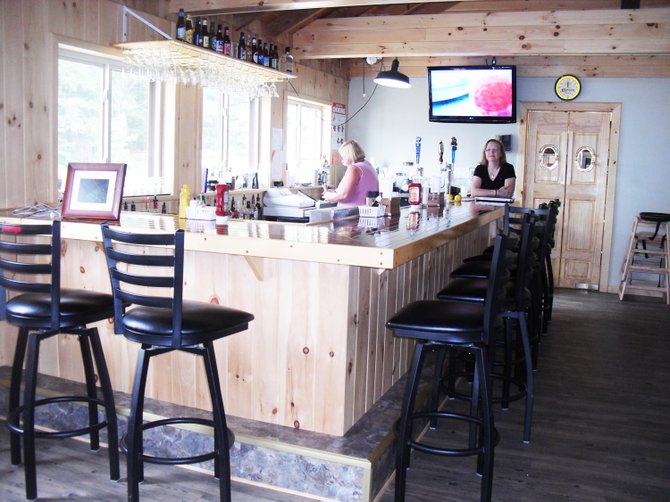 Willsboro — This summer's recent flooding on June 28 had no critical effects for Indian Bay Marina in Willsboro because they were ready this time.

With many days' worth of rain and saturation, the marina withstood the rising water because of the renovations that Patricia Schwennker, along with brother and co-owner Joe Walsh, had recently completed on the marina and restaurant that took quite a beating in the flooding of 2011, with the building actually starting to float in the raised water.
"There was really nothing that happened this time around," said Schwennker. "We are quite prepared now, the building is higher than it used to be."
Indian Bay Marina was closed for nearly two years before reopening this summer. A lot of renovations have been done to salvage the business and bring it back up to par for the seasonal bouts of customers that frequent the marina, the staff that work there, and for Patty and Joe.
Along with the actual building being raised two and half feet, the building now boasts bigger windows for a better view, a new bar built to resemble the woodwork on a boat, the restaurant has been gutted and redone with new woodwork, and the old dividing wall has been taken out to open up the restaurant and bar area.
"We really could not get support from FEMA after the 2011 flood," said Schwennker. "We didn't have flood insurance, so this has really been a tough experience. But, we really had a lot of support, and even when we had to lay off our staff because the marina was flooded with a foot and a half of water and ruined, they have all come back, every one of them."
Now that Indian Bay is up and running, the marina and restaurant is open seven days a week, spring, summer, and fall. Aside from the damage it has incurred, the new marina came out the victor with new additions such as the mug chiller, air-conditioning, and sliding doors to the patio.
(Continued on Next Page)
Prev Next
Vote on this Story by clicking on the Icon