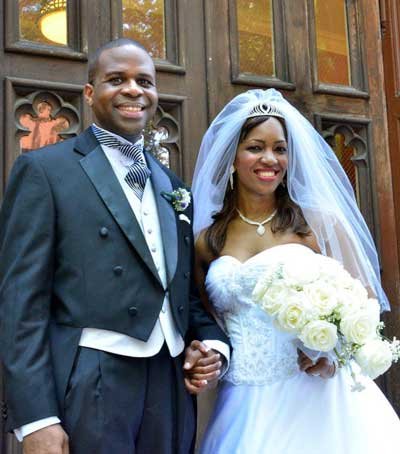 continued — Dr. Anekwe graduated with honors from Grace Christian School of Columbus, Ga., and received a bachelor of arts in mass media with honors from Clark Atlanta University. He received a master of education in counseling and student development from Tuskegee University, where he served on the faculty for several years, and a doctor of education from Auburn University. During his doctoral studies at Auburn, he conducted and presented research in education, ethics and philosophy at the International University Bremen in Bremen, Germany; John Cabot University in Rome, Italy; Cracow University of Technology in Cracow, Poland, and the University of Sterling in Sterling, Scotland. He is presently pursuing a master of science degree in bioethics at Columbia University and is a teacher with the New York City Department of Education.
The groom is the son of Emma Jeanette Anekwe, a retired teacher with the Muscogee County School District, Columbus, Ga., and Dr. Gregory Ejinkonye Anekwe, who was formerly chairman of the department of biochemistry at the University of Lagos, College of Medicine. He retired as a professor from the department of biochemistry, faculty of medicine, University of Jos.
After a wedding trip to the Dominican Republic, the couple will reside in Brooklyn.
Vote on this Story by clicking on the Icon