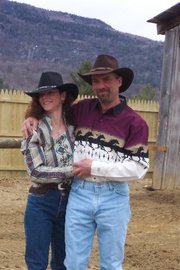 Westport — In the past 10 years, over 100 horses have found solace and new homes through the Crane Mountain Valley Horse Rescue Inc. (CMVHR).
Hundreds of others have found homes through the work of the rescue.
On July 20 and 21, the rescue held a celebration for not only their 10-year anniversary but for the hundreds of families made complete with the addition of horses given another chance at happiness.
"We're really excited for this milestone," said co-owner of CMVHR Nancy Van Wie.
CMVHR is a not for profit organization dedicated to the rescue, rehabilitation and re-homing of horses in need, and to offering community education and outreach programs to teach kindness, respect, and responsibility to help prevent neglect and abuse.

"We had a great weekend and appreciate the dedication and commitment of our volunteers, adoptive parents, and donors, and the generosity of the Champlain National Bank who sponsored the event," said Van Wie.
Eddie Mrozik, co-founder of CMVHR said, "these funds have significant impact on our ability to direct proceeds from the event to benefit the horses and the organization's community education and outreach programs."
Van Wie and Mrozik opened the rescue on to the public to enjoy the farm, meet the horses, check out their tack sales and experience a live exhibit with the Adirondack Wildlife Refuge and Rehabilitation Center (AWRRC).
Wendy Hall of AWRRC brought several birds of prey including a red tail hawk, a bard owl and a kestrel for the anniversary celebration.
Van Wie said there were waves of people coming to the rescue at various points during the two day event. Many were adoptive parents and donors, many new faces from the local community and from as far away as British Columbia, and several of the teachers and students who have participated in community education and outreach programs over the past decade with the rescue.
(Continued on Next Page)
Prev Next
Vote on this Story by clicking on the Icon