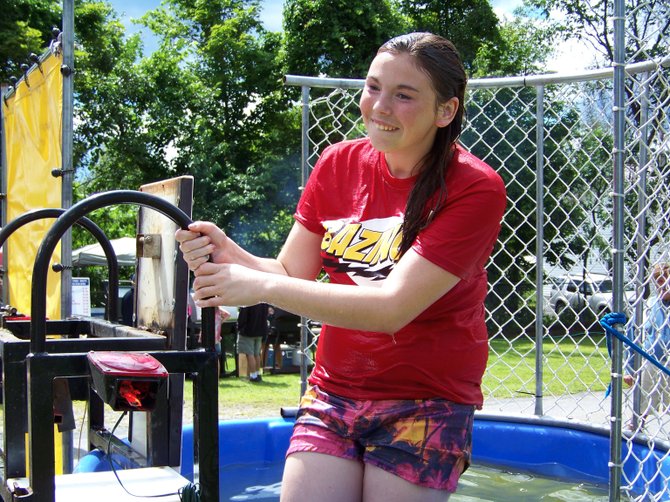 continued — Joyce Houck and her son Russell were handing out free pens, pins and maps at the North Warren Chamber of Commerce booth.
"A lot of visitors have been stopping by, asking about local attractions and bicentennial events," Houck said.
Bill McGhee of the Eastern Shore Schroon Lake Association was showing off live samples of invasive species, while handing out pamphlets on how to stop them from spreading from one waterway to another. He had a petri dish with tiny fern-like fronds of milfoil, as well as a sieve containing a half-dozen Asian clams, showing the items to interested browsers, explaining the threat they pose.
Explaining the activities of the Brant Lake Association — as well as selling sweatshirts, hats and mugs with the association logo — were BLA members Wayne Butler, Doug Paton, Harvey Leidy, Mike Raymond, Judy Long and Elna Meader.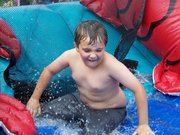 Also represented at Horicon Day were the Krafty Kritters, marketing their crafts and conducting a raffle for a quilt, to be awarded on Labor Day weekend. The money is to go for scholarships to North Warren High and the local Adopt-A-Family charity. Bonnie Cleveland of the North Warren Helpers Fund passed out free snacks and collected donations on behalf of her group's outreach charity.
Sheriffs' officers Jesse Wittenberg and Pete Leone fingerprinted and photographed children in the Horicon Community Center, producing high-technology identification cards. Nearby, a man with a long grey beard and a battered Alpine felt hat — Gerard "Frawg" Contois — read stories to children while occasionally telling tall tales to adults passing by.
Providing fuel for the crowd were members of the Horicon Fire Department Auxiliary. Grilling up hot dogs and hamburgers as they shared local news and chatter with customers were Estelle and Nancy Smith and Amanda Delczeg, while Helen Smith, 80, was making change out of the cash box. Smith's younger sister Gert was nearby, serving up nachos and popcorn. Estelle Smit let other workers know that Saturday was the 74th birthday for Gert, a 55-year Auxiliary member.
Vote on this Story by clicking on the Icon