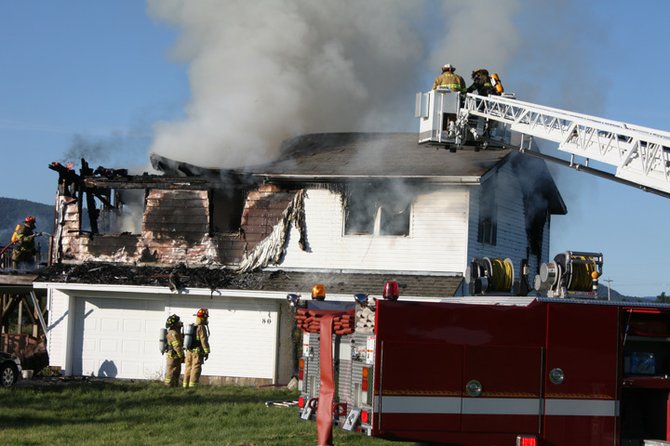 Ticonderoga — Investigators are seeking for a cause of a fire that damaged a Ticonderoga house early Monday, Aug. 5.
A neighbor called 911 at 6:44 a.m. to report the blaze at 80 Outlet Drive.
The house is owned by Ron and Barb O'Neill and leased to Vincent Gerardi.
The fire is believed to have started in the kitchen area.
"When we arrived one end of the house, near the kitchen area, was fully involved," said Matt Watts, Ticonderoga first assistant fire chief. "It was the second story on the southeast corner."
The home's first floor is a garage and storage space, Watts explained. The second floor is the residential area.
The blaze destroyed the building's roof and caused "significant" damage inside, Watts said.
"There were no real problems; everything went they way we train," Watts said. "There were no injuries. Everyone did an outstanding job and we want to thank all our mutual aid companies for their help."
About 40 firefighters from Ticonderoga, Crown Point, Putnam and Chilson fire departments battled the fire. The Ticonderoga Emergency Squad, Ticonderoga Police Department, Essex County Emergency Services Air 1 unit and Essex County fire investigators were on scene.
The Hague Fire Department was on standby at the Ti fire station. National Grid responded to cut power to the building.
The American Red Cross also responded and is assisting Gerardi.
Vote on this Story by clicking on the Icon