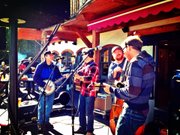 Swimming with Champy to make a splash
LAKE PLACID — Swimming with Champy will perform at Smoke Signals, 2489 Main Street, on Aug. 2 at 8 p.m.
Swimmin' With Champy is Lake Placid's own not-quitebluegrass supergroup that branches out to include other styles that influence us, from 50s big-band to Iron Maiden.
The bands off-kilter sound comes from members Joe Beneahan on guitar; Sven Curth plying the banjo; Lowell Bailey playing the mandolin; Dick Fitts on bass; Kester Hollrock on the fiddle. Member Lester who took the summer off to have a baby will rejoin the group after hiatus.
Sven, Joe and Fitts hail from the band JIM., whose notoriously excellently incoherent fan base has been filling area venues for fifteen or so years.
Lowell hails from area band Big Slyde, and Kester from Big-time out-west band Steam-Powered Airplane.
Live Pop and Punk Music show held at ROTA
PLATTSBURGH — ROTA Gallery will host a live Pop and Punk Music Show featuring bands: The Young Leaves, Betty Nico, Marco Polio, Alison Lutz, at the Gallery, 40 Margaret Street, on Aug. 3 at 7 p.m.
The Young Leaves are a 3-piece Indie rock band from Holliston, MA. Taking influence from bands such as Dinosaur Jr., Archers of Loaf, and Husker Du, The Young Leaves play loud, fast, and powerful sludge-pop that will make you think you traveled back in time to 1994.
Admission is based on a sliding scale between $3 to $10 pay what you can.

Duo Fae to perform at Concert-Dinner Soirée
SARANAC — Duo FAE: Violinist Charlene Kluegel and pianist Katherine Petersen, will perform for a Concert-Dinner Soirée as part of Hill and Hollow Music at Weatherwatch Farm, 550 Number 37 Road.
The Sunday Soirée will be held on Aug. 4 beginning at 6 p.m. with drinks and appetizers, the Duo Fave will perform at 7 p.m. followed by a buffet dinner at 8 p.m.
Vote on this Story by clicking on the Icon