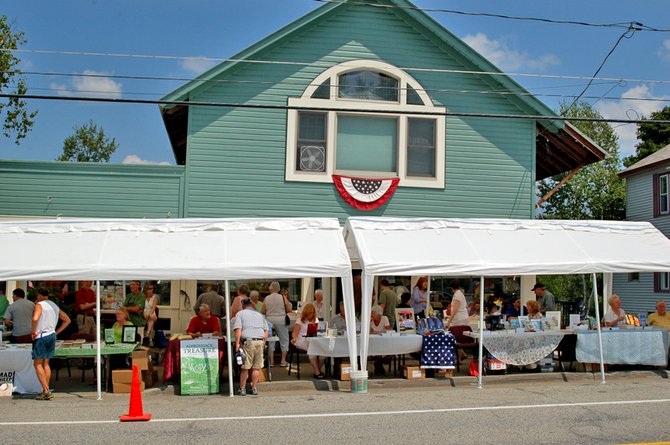 continued — Tri-County Nursing Home: Elizabeth Marshall will have handmade items such as table runners, placemats, and scented pillows at the Tri-County Nursing Home's flea market on State Route 28. There will be other vendors such as antiques, food and used books set up.
Hudson River Trading Company: Author Lawrence Gooley — well known for his books on Robert Garrow and other Adirondack historical events — will be located here at the Rhythm & Rhymes headquarters. Other authors and artists will include:
•Michael Northrup, "The Padded Cell," "Escape from the Padded Cell";
•Robert Nearing, "Last Run of the Whisperer";
•Pat Leonard, "Transfiguration";
•Burt Miner, "Growing up in North Creek";
•Perky Granger, "Adirondack Gold";
•Carol Gregson, "Leaky Boots," "Wet Socks";
•Yvona Fast, "Garden Gourmet";
•Bibi Wein, "The Way Home,"
•Irene Uttenderfsky, children's chapter books and history fictions;
•Steve Sawn, deer hunting novels;
•Walt McLaughlin, "The Allure of Deep Woods";
•Larry Beahan, "Grandpa's Woods," "North Country," "Adirondack Pulp Fiction," and "Adirondack Sasquatch";
•Colleen Snyder, hand-crafted beaded jewelry;
•Claudie Wheeler, Wolf Pond Stables;
•Donna Wormwood, miniature Adirondack furniture and paintings;
•and Anneliese Taylor, painted items.
Location maps for artists and authors will be available at Hudson River Trading Company, the train station, and North Creek businesses.
The Hudson River Trading Company is located in three buildings in North Creek. The main location at 292 Main St. features over 6,000 square feet of browsing throughout nature-inspired rustic furniture, lighting, taxidermy and home furnishings. At the 290 Main St. location is the Outlet Store, where people can find bargains in resort wear such as Woolrich, Royal Robbins, and Isis. Also open this year is the Annex, furniture, rug and bedding showcase in the historic Smith's Restaurant. Adjacent to the Annex is the Confectionery at HRTCo, serving soft and hard ice cream, locally made chocolates and fudge and old fashioned candy, novelties and toys
For more information, call the store at 251-4461 or visit online at www.HudsonRiverTradingCo.com.
Vote on this Story by clicking on the Icon