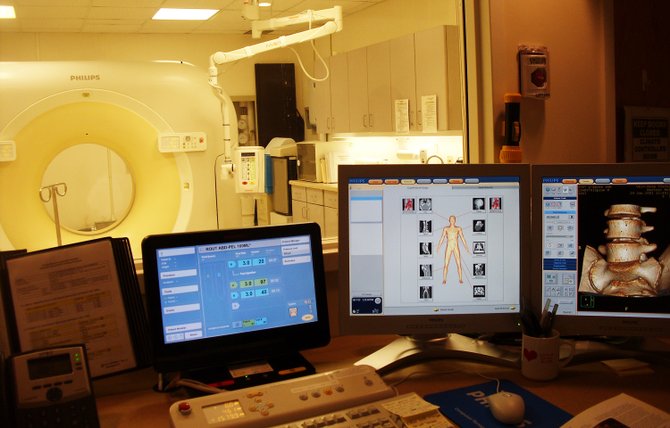 Elizabethtown — Elizabethtown Community Hospital opened its doors to the community from 1 to 6 p.m. Thursday, July 18, to exhibit what it has to offer for emergency services.
Touring through the emergency room and emergency vehicles, the community got to experience and observe the state-of-the-art equipment used in emergency situations as well as the capabilities of the staff at Elizabethtown Community Hospital (ECH). ECH is designated by the federal government as a Critical Access Hospital (CAH), which means it may not be able to treat certain injuries or ailments. But it is often the closest facility to respond, stabilize and then transport patients larger hospitals such as Fletcher Allen, in Vermont, and CVPH in Plattsburgh, NY.
In the emergency room, patients have the advantage of high-tech capabilities at ECH which include the newest CT Scan machine for miles around, the results of which can be shared with emergency room staff and doctors right away via computer, and trauma rooms that are able to be video-linked to Fletcher Allen doctors who can visually see the condition of patients in emergency situations.
Once the well-experienced emergency room staff has stabilized patients at ECH — and time means everything when faced with critical health — transport is necessary to get to other services.
"In critical situations, medical staff prefers that the patient be out of a hospital environment for the shortest time possible," said Chief Nursing Officer, Bonnie Rata. "While in the hospital, the patient can be managed and stabilized — during transport, resources are much more limited."
However, emergency responders, EMTs, and emergency vehicles are key to saving lives and saving time in critical situations to get in-need patients to facilities such as ECH to be stabilized, so that minimal damage occurs.
In the hospital parking lot, Emergency Medical Technicians, EMTs, were available to answer questions about what they do, to give tours of the emergency vehicles, and to showcase the different types of vehicles available for emergency situations.
(Continued on Next Page)
Prev Next
Vote on this Story by clicking on the Icon