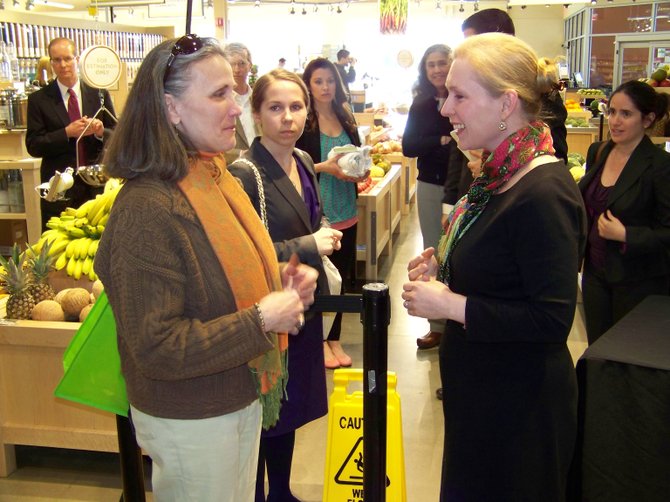 • provide funding to boost collection and distribution of farm products, particularly to underserved communities;
• offer new funding for promotion of not only farmers' markets but other fresh-food distribution programs; and
• devise programs and establish grants to improve farm profitability and sustainability — and increase the consumption and affordability of fruits and vegetables in low-income communities.
Teresa Whalen of Warrensburg, who has been working for several years to connect Adirondack residents and schools with local farmers and their products, said she was excited about the various initiatives contained in the farm bill.
"This bill has a lot of merit — it's wonderful," she said minutes after she talked with Gillibrand about Adirondack farm sustainability initiatives and praised the Senator for her endorsement of the Local Farms bill.
This new measure helps alleviate problems now threatening the survival of small farms, said Whalen, who is affiliated with Adirondack Harvest, based in Essex County. Also, Whalen is promoting the Workplace CSA Farm Share Program, which is operated by Juniper Hill Farm of Wadhams.
Farm programs and federal school lunch mandates have to date favored massive farming operations at the expense of local farmers, Whalen added.
"This bill has provisions to encourage beneficial farm-to-school initiatives," she "Allowing schools access to federal funding for purchasing local products is a tremendous plus, as it supports the local economy and gets healthy locally-grown foods into our schools."
Justine Denison, a farmer from Schaghticoke who raises produce for a large CSA network, sells directly at various farmers markets plus wholesales vegetables to grocers, said she was happy about the provisions in the new bill.
"I'm excited and grateful," she said. "We really appreciate how the legislators respect what we do."
Whalen said that more needs to be done to aid the smallest farm operations, which now face hefty insurance costs and permitting fees. She noted that an enterprise she was involved in, Adirondack Farm-to-Pantry Initiative, had difficulties last year obtaining adequate liability insurance.
Smaller dairy farms are suffering the most, she said, noting that many in upstate rural New York have gone bankrupt.
"It's very difficult now for farmers to make a decent living," she said. "I'd like to see measures like this go a lot further in the future."
Among Whalen's suggestions were that health insurers, who now offer cash incentives to their clients for signing up for gym memberships, extend similar payouts to clients participating in workplace CSAs which deliver nutritious local produce.
Vote on this Story by clicking on the Icon