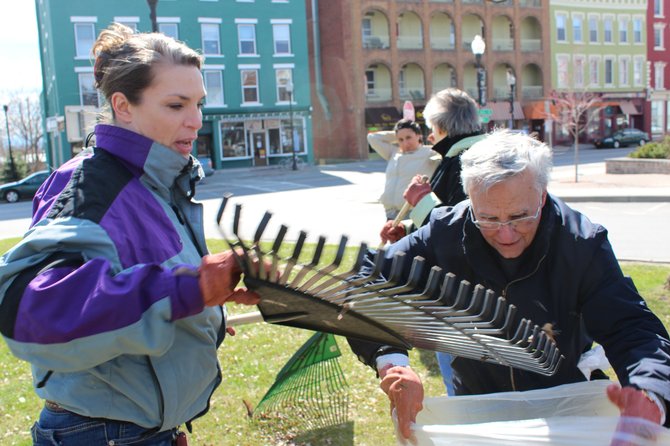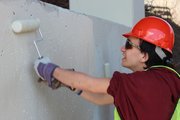 Plattsburgh — As the snow receded in downtown Plattsburgh, places like Trinity Park became marred by the presence of litter and leaves blowing around like urban tumbleweed.
Yes, spring is here, and the Clinton County Advocacy and Resource Center teamed up with Plattsburgh State's newest fraternity, Pi Kappa Phi, to do some spring cleaning on Saturday, April 20.
The Earth-Day inspired Green-up Day was the first of its kind for the two organizations.
It was also a chance for the ARC, which serves individuals with developmental disabilities throughout the region, and the Eta Kappa chapter of Pi Kappa Phi, which was installed at Plattsburgh State in November 2012, to begin a partnership of volunteering in the community.
Volunteering in Plattsburgh might be new to the fraternity, but it's standard procedure for the ARC.
"The people we serve have a lot of interest in giving back to the community through volunteerism," said Mike Clausen of the ARC, who helped organize the event. "This is not just a one day a year thing. We have people volunteering at the Humane Society, soup kitchens and the Tiger Scouts. We have volunteers all over the place."
Clausen consulted the City of Plattsburgh Department of Public Works, who recommended some projects for Green-up Day.
Those projects included picking up leaves and litter, and doing some light painting underneath the railroad bridge that spans the Saranac River downtown.
One of the volunteers with the ARC, Marvin Desrocher, took part in the painting.
"Everybody's been spraying graffiti down here, and I thought, 'why not paint over it?'" Desrocher said.
Desrocher carefully ran a paint roller over the unsightly wordage, making the scenery for those entering or leaving Plattsburgh by train a little more welcoming.
He took a step back, admiring his own handiwork, and said he'd be happy to participate in Green-up Day again.
(Continued on Next Page)
Prev Next
Vote on this Story by clicking on the Icon