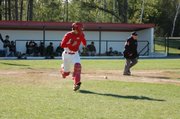 Plattsburgh — For some people, baseball and other sports are not just a way of life but a reason to live. The SUNY Plattsburgh baseball team will be combining its love of the game with the conviction to save lives in honor of former team member Brian Mehan.
The baseball team will host 'Brian Mehan Be The Match Day' on Tuesday, April 30. From 11 a.m. to 2 p.m. the team will be collecting swabs for bone marrow matching in the Cardinal Lounge and before the game there will also be a swabbing station set up at the Lefty Wilson Field on Bailey Ave from 6 to 7:30 p.m. before the team plays SUNY Canton that evening.
"It seems right to have the game there, it's where we played against each other in high school and we played together in college," said former teammate Joey Painter. Mehan played for Plattsburgh High School and Painter played for Au Sable Valley before they played for PSU.
Organ donor testing
People can get tested for free during the day at campus or at the baseball field. Those tested will also be put into the organ donor registry. PSU baseball coach Kris Doorey said the Be the Match personnel will take a cotton swab and scrape along the inside of the mouth and from that they'll be able to tell if the person is a match for someone, he said it is easy and painless.
Doorey said the event is not just the last home game of the season but most importantly it is an opportunity to remember a former player who succumbed to leukemia in 2008. Leukemia is a cancer of the blood cells. It starts in the bone marrow, the soft tissue inside most bones. Bone marrow is where blood cells are made. When someone suffers from leukemia, the bone marrow starts to make a lot of abnormal white blood cells, called leukemia cells. The cells don't do the work of normal white blood cells, grow faster than normal cells, and they don't stop growing when they should.
(Continued on Next Page)
Prev Next
Vote on this Story by clicking on the Icon