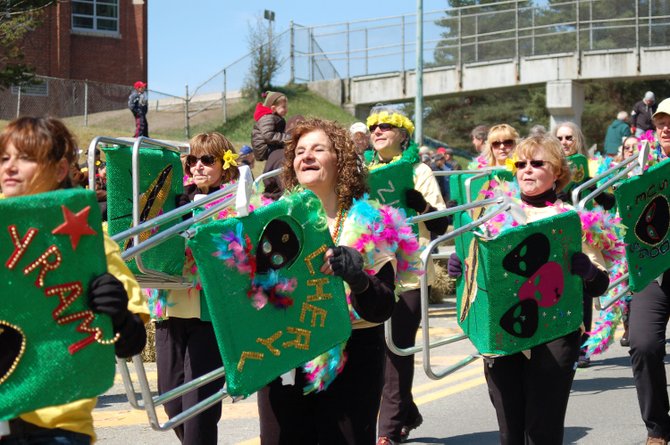 continued — On Sunday, April 28, there will be a large garden basket weaving contest at the Willy Nilly on River Street from 10 a.m. until 3 p.m.
Events continue the following weekend with a Wigmore Garden tour Thursday, May 2, starting at 1 p.m. The tour is limited to 30 visitors, who are asked to sign up through the Daffest website. The Downhill Grill will also be hosting LeGroove at 7 p.m. for Jazz in Bloom.
On Friday, May 3, the Jail and Bail for Bulbs fundraiser will take place from 11:30 a.m. until 5 p.m. Organized by Janie's for Hair, people who are "arrested" can be bailed out of jail for a $25 donation which will help buy 50 daffodil bulbs. More information can be obtained by calling Janie at 637-4990 or LeeAnn at 586-1573. There will also be a slide show of the French Gardens at the Left Bank Cafe, which will also host the Dust Bunnies from 7 to 9 p.m.
The Saranac Lake Chamber's 5-K Zoom in Bloom race will take place Saturday, May 4, with registration and check in from 8 until 8 :45 a.m. at the Adirondack Carousel. The race will begin at 9 a.m. with a registration fee of $20 that includes a race T-shirt.
The race will be followed by a brunch from 10 a.m. until 2 p.m. at Nonna Fina, while there will be a tour of the Pine Ridge Cemetery with Bob Seidenstein at 11 a.m. There will also be an Ampersand Bay Resort tour at 1 p.m., along with a Mark Twain Maple Works tour at 2:30 p.m.
At 4 p.m., the Daffest Derby Hat contest will be held at Captain Cook's at 4 p.m., which will judge the best hats at the event and offer a viewing party of the annual Kentucky Derby horse race.
The festival concludes Sunday, May 5, with the Adirondack Singers Spring concert at St. Bernard's Church at 2 p.m.
For more information on the Daffest, to find a calendar of events or to register for tours and races, visit the website daffest.com.
Vote on this Story by clicking on the Icon