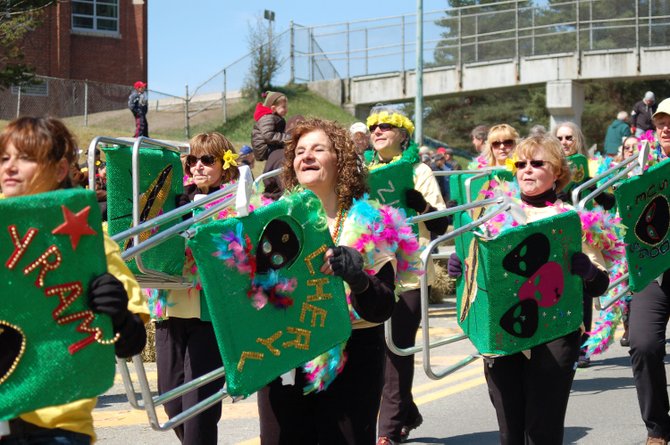 Saranac Lake — The annual celebration of daffodils is once again ready to take place in Saranac Lake.
Daffest will kick off this weekend, highlighted by the annual Daffest Derby, a competition of soapbox derby cars that runs on the LaPan Highway hill from the site of the overpass to the Harrietstown Town Hall.
The derby will take place Saturday, April 27, with racing starting promptly at 11 a.m. There will be four age classes that will take their turns running down the hill in a race against the opponent and the clock.
The event will kick off with a performance by the Lawn Chair Ladies at 10:45 a.m., while there will be a bake sale sponsored by the Petrova Parents Club at the event from 9 a.m. until 1:30 p.m.
For regulations and entry, go to daffest.com or contact Bob Bevilacqua at Car Cuzzi Care Center, 891-8109.
Events start Friday, April 26, with a walking tour led by Amy Catania, director of Historic Saranac Lake, at 1 p.m., starting at Riverside Park. The kickoff for Daffest will take place at Blue Moon at 4 p.m., followed by a wine tasting at Saranac Lake Discount Liquor at 5:30 p.m.
The night will conclude with the Try Mine Pastry Contest at the Harrietstown Hall from 5:30 to 8 p.m. Judging for the best local pastry will be done by those in attendance as well as a panel of judges.
At the same times, there will be a Daffest Derby reception and soapbox car equipment check at the site.
On Saturday, the corner of Main and River Street will be abuzz with several events from 10 a.m. until 3 p.m., including fair food for sale, fishing clinic, baking demos, wagon rides, face painting, music by the Lemon Drops from 11:30 a.m. until 2:30 p.m. and a pie eating contest from noon until 3 p.m. The Nonna Fina Wine Tasting will take place from 2 until 6 p.m., while there will be a roast pork dinner from 4 until 8 p.m. at the Adult Center. At 7:30 p.m., the North Country Jazz Ensemble will play at Will Rogers, while the Downhill Grill will host performers Steve Langdon and Tall County (formerly Frankenpine) at 9 p.m.
(Continued on Next Page)
Prev Next
Vote on this Story by clicking on the Icon