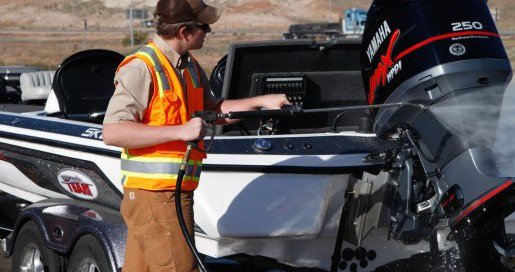 Ticonderoga — Boats entering Lake George will likely be required to be inspected and decontaminated starting in 2014 in an effort to keep invasive species from the lake.
The Lake George Park Commission adopted a Draft Invasive Species Prevention Plan and Environmental Impact Statement April 23. The plan identifies a "preferred alternative" that calls for a mandatory inspection program for all trailered boats entering Lake George and hot water power washing decontamination of boats that don't pass inspection.
Before the draft can become final the public will have 60 days to comment. Two public hearings, one at each end of the lake, will be schedule to allow public input. The public comment period will end June 25. The plan can be read online at the LGPC website, www.lgpc.state.ny.us.
Dean Cook of Ticonderoga, a member of the commission, expects the draft plan to be formally adopted following the public comment period.
"It has overwhelming support," he said. "Everyone is on broad with this."
Bruce Young, chairman of the commission, agrees.
"Keeping new invasive species out of Lake George is a top priority action for the commission," he said. "There is tremendous consensus among the state, Lake George's surrounding communities, chambers of commerce and many other groups that the lake needs strong and comprehensive protection from new invasive species. This draft plan identifies potential options to protect the lake and now we want to hear from the public."
Lake George currently has five invasive species in its waters — asian clam, eurasian milfoil, zebra mussels, curlyleaf pondweed and spiny waterflea. It's believed those non-native species were brought to Lake George by boats that had been in other lakes.
The LGPC spends more than $1 million a year to manage and eradicate invasive species. In the past two years alone the state and local governments have spent more than $1.5 million in efforts to eradicate the asian clam.
(Continued on Next Page)
Prev Next
Vote on this Story by clicking on the Icon