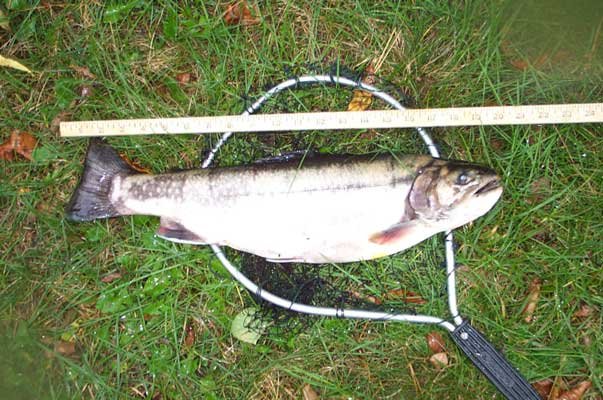 Most rivers and streams are still running high, with water temperatures about average for the season. Most of the ponds will have shed their ice cover by the weekend but water temperatures will only be in the mid 30s. As water temperatures increase, fish should become more active.
The smaller, shallower ponds will be producing first, although water temperatures will need to warm up some before the deeper ponds and lakes turn on.
Lake trout and salmon will be the first fish to be active, while brook trout will take a bit longer. However, it will only take a change of a few degrees in water temperatures to turn them on.
The annual smelt run appears to be on track following the Full Moon, which is set to occur on Friday, April 25.
Following the full moon, trout and salmon will begin feeding actively in and around the inlets and tributaries of the lakes and ponds for the next week or so.
Stocking trucks have not yet delivered many trout to area's streams and rivers, and in the smaller streams and mountain brooks, native brook trout are still in their winter mode.
Trout will be slow to react to offerings, and likely sheltered among the rocks and under the overhanging trees.

On the rivers, anglers will find the best action in the deeper pools or at the base of falls or dams, where air temperatures will have a greater effect on water temperatures.
Think like a fish, and look around, be observant and see what's going on. Are there flies in the air, or schools of minnows in the shallows? On the streams, seek out areas that provide both food and shelter, and you'll find the fish.
As a result of the floods, many local rivers and streams are still chocked with large accumulations of debris and logjams. These are excellent holding areas for trout, but be careful of your footing.
Joe Hackett is a guide and sportsman residing in Ray Brook. Contact him at brookside18@adelphia.net.
(Continued on Next Page)
Prev Next
Vote on this Story by clicking on the Icon