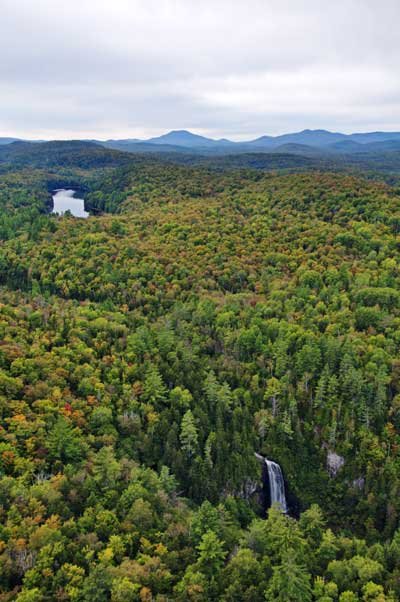 continued — "The acquisition of these tracts will increase hiking opportunities and provide direct access to the Upper Hudson River from the Newcomb Town Beach," said Newcomb Town Supervisor George Canon. "Attracting more visitors to the interior should increase economic opportunities for Adirondack communities."
Town of Indian Lake Supervisor Brian Wells said, "The state's acquisition of the OK Slip Falls and Indian River parcels represents a new mind set coming out of Albany. The governor has proposed these land acquisitions as not only an environmental necessity but also an economic necessity for the state. DEC is charged with reaching a balanced approached in their recommendations of classification to the APA. DEC has reached out to the local communities to ask input to be put forward to the APA. If these classifications are done with local input from the communities who are going to be affected the most, it could lead to a resurrection in the park."
The tracts to be acquired during the next several weeks include:
Indian River/Hudson River, Towns of Indian Lake and Minerva, Hamilton and Essex counties: The most exciting and popular whitewater rafting experience in the Adirondacks starts on the Indian River and continues for nearly 15 miles down the Hudson River Gorge. Adding this 940-acre tract to the publicly owned forest preserve will keep the experience wild. (See also OK Slip Falls tract.) The parcel is critical to preserving the rafting experience that draws 25,000 people annually. It is also key to unlocking new recreational opportunities by providing long-awaited access and take-out points that will make the enticing stretch of the upper Hudson River to the north a viable option for paddlers wishing to experience calmer waters than the class III/ IV rapids of the Gorge.
This will be an incredible draw for visitors seeking this unique and limited wild rivers experience, bringing people to the communities of Indian Lake, Blue Mountain Lake, Long Lake, Newcomb and Minerva to seek accommodations and supplies. This aspect of the project will be open to public use this year as discussed above. Up-to-date details on public access will be provided on DEC's website at: www.dec.ny.gov.
Vote on this Story by clicking on the Icon