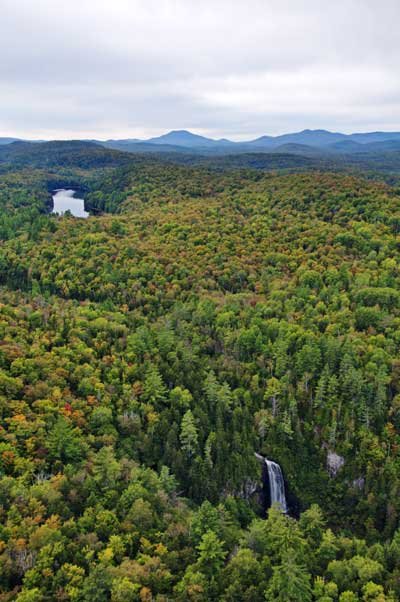 continued — The Nature Conservancy managed a 69,000-acre landholding with the intent to ensure its protection. Under an agreement announced last summer by Gov. Cuomo, the 69,000-acre property will be sold to the state pursuant to a phased five-year contract which began in 2012. Once complete, the acquisition of the former Finch lands will be the largest addition to the State Forest Preserve in 118 years.
This acquisition complements the state's purchase of the 18,318-acre Essex Chain of Lakes property in late 2012. The state will pay The Nature Conservancy $6.3 million for a total of approximately 9,300 acres and will pay full property taxes on the land.
DEC and APA are working together to plan for the future classification of the former Finch lands. DEC has completed a Proposal for Public Access and State Land Classification for the entire 69,000-acre property, based upon input from Adirondack local governments and other stakeholders, and submitted it to the Adirondack Park Agency and to Park stakeholder groups.
The APA will release a draft land classification plan for the parcel later this year. A public comment period will begin once the draft plan is released and public hearings will be held before the final recommendations are sent to the Governor for approval. Once land classifications are approved, DEC will develop Unit Management Plans that will guide long-term public and administrative use of the properties. An open and transparent process, including a public comment period, will be held for each Unit Management Plan.
Currently, the APA and DEC are working on an interim public access plan to provide early access to the Hudson and Cedar Rivers through the Essex Chain of Lakes and Indian River Tracts. This interim public access plan is expected to be released in the next few weeks with public motor vehicle access to begin in late May or early June depending on road conditions.
Vote on this Story by clicking on the Icon