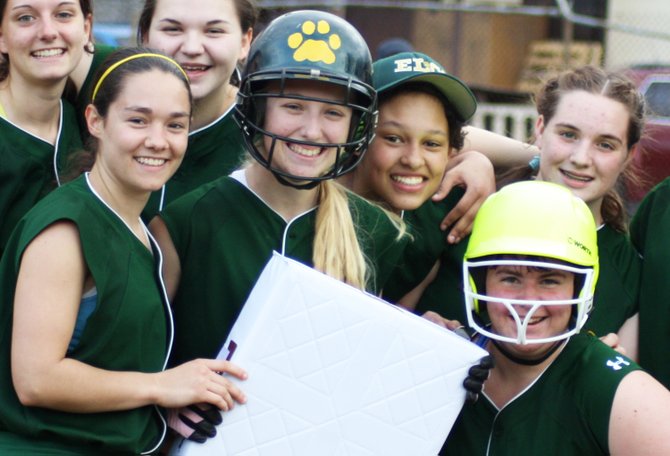 Elizabethtown — Stealing may be wrong in the real world, but Elizabethtown-Lewis senior shortstop Kylee Cassavaugh has made a name for herself thanks to her softball career of pilfering bases off the opposition.
A combination of speed and instincts reached its climax April 19, when Cassavaugh stole a pair of bases against Minerva/Newcomb, putting her alone in first on the list of best swipers in the state.
"I am extremely excited to have accomplished this," Cassavaugh said. "I have been waiting for the day when I didn't have to think about reaching the record anymore. Now I can just go out and add to it."
Cassavaugh, who entered the game tied with Caitlin Attfield, a 2012 graduate of Niagara Wheatfield with 128 career stolen bases, stole second base against the Lady Mountaineers to claim the record for herself, following it up with a swipe of third to give her a total of 130 career steals. She added two more against Schroon Lake April 22.
"The biggest thing is her first step," Lions head coach Jim Monty said. "By the time she hits her second step, she is already at full speed."
"Knowing when to run in different situations is helpful," Cassavaugh said. "I think that anyone can steal a base if they know when to go. That knowledge came from the coaches and through playing during the first couple of years. Now I just look for them to tell me when."
Cassavaugh started her varsity softball career as an eighth grader, playing for Monty.
"When she started, she was not as strong of a hitter as she is now, but she was able to get on base a lot and we took advantage of that," Monty said.
Cassavaugh stole 21 bases her first season on varsity and followed that up with 32 during her freshman year, a season that ranks as the seventh-highest total all time.
(Continued on Next Page)
Prev Next
Vote on this Story by clicking on the Icon