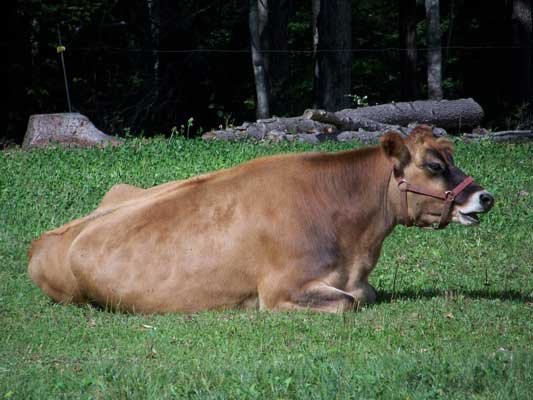 By moving dairy cows daily, the bovines get fresh actively growing grass and clovers in their diet. The high protein feed from pasture along with hay and grain fed in the barn makes a balanced ration that helps keep milk production costs down. Beef operations depending on the level of management intensity, may move the cows every day or up to every 2 or 3 days. The overall goal of rotational grazing management is to get quality feed to help the young growing animals gain about 2 lbs. per day if the pasture is managed properly.
Quality feed gets quality animals, and animal products such as milk and meat.
Other benefits to the farmer include:
• Nutrient rich manure is spread directly on actively growing grass by the best possible means; direct deposit! This reduces labor costs.
• Fuel costs associated with manure spreading and barn cleaning are reduced.
• Electricity costs associated with barn and gutter cleaning are lessened.
In many cases milk production increases depending on the quality of stored feed. In other cases milk production may drop, but overall profitability increases, depending on management.
For the average Joe or Jane trying to make a living, there are numerous benefits. Some of these include reduced nutrient runoff and less soil erosion. The soil is protected by a permanent sod cover, and the stream banks get fenced out protecting aquatic areas. Wildlife habitat is also created and/or improved.

Overall soil quality improves and carbon is stored due to the increasing organic matter buildup in the soils. The infiltration rate of the soil, due to improved soil structure is increased. So during a rainstorm there tends to be less runoff and more infiltration and water storage in the organic matter.
The consumer benefits too! Grazing beef farms along with Community Supported Agriculture enterprises (CSA's) are increasing in our area. This means the consumer has a choice of purchasing grass-fed beef and locally grown vegetables, fruits, jams, and other farm fresh, locally grown products. All of these products are available to you from a farm stand owned by a family farm in our community.
Rich Redman is a retired District Conservationist for the USDA Natural Resources Conservation Service and an avid outdoorsman. His column will appear regularly. He may be reached at rangeric@nycap.rr.com.
Vote on this Story by clicking on the Icon