Warrior schedule
April 22 Argyle
April 23 @Luzerne
April 24 North Warren
April 26 Luzerne
April 29 @Fort Edward
April 30 HoosickValley
May 1 @North Warren
May 2 Corinth
May 6 @Hartford
May 8 @Warrensburg
May 10 Bolton
May 13 Fort Ann
May 14 @Glens Falls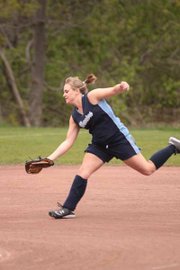 Lake George — The Lake George Girls Softball team enjoys an outstanding legacy that stretches back decades, and this year, local fans are anticipating a strong season to continue that tradition.
In 2012, the Warriors — combining strong defense and timely hitting — won the Adirondack League title, culminating in a scrappy battle with Argyle. The victory was the high point in a season that tallied a 13-3 record in the highly competitive league.
Although four accomplished athletes graduated last June — 2012 area All-Stars Chelsea Sipowicz, Amanda Chambers, Rebecca Kandora and Jamie Jarrett — there's plenty of talent remaining, Warrior coach Kyle Manny said this week.
"We have a pretty good number of experienced athletes returning and some young players moving up," he said.
Leading the campaign on the mound will be Amy Sander — also named a 2012 area All-Star — who not only has a solid pitching record, but is a good all-around player, Manny said.
"Amy's a hard worker, and she hits to locations well, scoring some runs last year," he said.
Manny continued that when she pitched in 2012, Sander mixed her various pitches well and had plenty of strikeouts, with the benefit of a strong defense backing her up.
Brittany Motta and Cassie Sipowicz, both junior veterans, will be among the players playing key roles on defense this year.
The team will also be relying on Senior Kelsey Alfonso, who had the highest batting average last year, Manny said.
"Kelsey is a standout on offense," he said, noting she will be leading a lineup of power hitters.
(Continued on Next Page)
Prev Next
Vote on this Story by clicking on the Icon