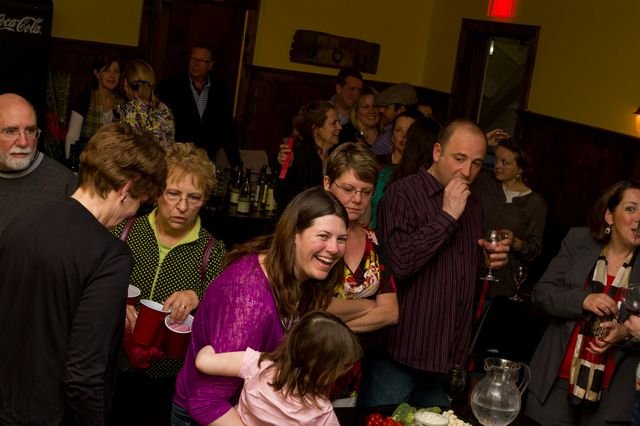 continued — • Chester Library Wine Tasting fundraiser, 1 p.m.- 4 p.m. Sunday May 5 at the Friends Lake Inn;
• Joint Social Mixer of the North Warren and Gore Mountain chambers of commerce, 5:30 p.m.- 7 p.m. Wednesday May 15 at Railroads on Parade in downtown Pottersville;
• Barney Barnhart Memorial Children's Fishing Derby, 9 a.m.- 2 p.m. Saturday May 18 at the Brant Lake Mill Pond.
It was also noted that the Business Alliance will be holding a benefit golf tournament June 14 at Green Mansions; and that Chestertown Summerfest will be held July 16 with Linda Muench of the Alliance to be among those organizing it.
It was also announced that Chestertown Farmer's Market is gearing up for the season with about 25 vendors committing at this point. Musical entertainment is booked for 16 out of the 17 Wednesdays the market will be operating through the summer. Signed up to perform so far is Stephen Smith of Nashville fame, as well as favorite local vocalist Lindsey Meade.
Help is need for weekly set-up and tear-down each week at the market, and anyone interested in volunteering 30 to 45 minutes or more should contact Mary Jane Dower at 494-3666 or Cindy Mead at 494-3016. The opening day for the market is June 19.
Also discussed at the meeting was establishing a "Street Night" event on the front lawn of the Chester Municipal Center — perhaps in August.
Alliance members expressed enthusiasm about such an event, which would undoubtedly draw hundreds of people into town for an enjoyable evening.
The next meeting of the Tri-Lakes Business Alliance is set for 9 a.m. Friday May 3 at the Panther Mountain Inn, Chestertown.
Vote on this Story by clicking on the Icon