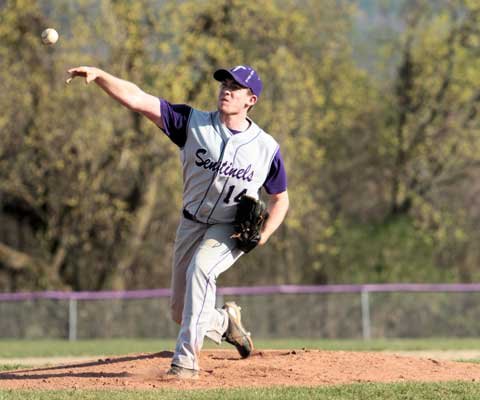 Sentinel schedule
April 9.....at Fort Ann
April 10...Peru
April 15...at Lake Placid
April 17...NAC
April 22...Beekmantown
April 24...at Saranac Lake
April 26...at Moriah
April 30...NCCS
May 2.......AVCS
May 4.......Peru
May 7.......Lake Placid
May 9.......at Saranac
May 11.....at NAC
May 13.....Plattsburgh
May 17.....Moriah
May 20.....at AVCS
Ticonderoga — Ticonderoga High School baseball is like a run away train. The Sentinels just keep winning and winning and winning.
Ti will be shooting for its ninth straight Section VII Class C championship this spring. There's no reason to think the Sentinel won't win another title, especially since last season's runner-up — Moriah — has moved to Class D in 2013.
Ticonderoga has five starters returning from a year ago when the club posted a 14-8 record and won the Champlain Valley Athletic Conference Division II title. Ti advanced to the state tournament, winning a first round game before being eliminated.
Returning are Miles Austin, Tanner Wright, Ty Denno, Aaron Bush, Jordan Woods and Anthony Costello.
"We will be led by seniors Miles Austin and Tanner Wright," Coach Dan Dorsett said. "Both were named league all-stars and to the all-state team. Miles is a four-year starter and Tanner a three-year starter on the varsity. Jordan Woods is also a three-year starter."
Austin hit .451 and had 19 runs batted in to pace the Sentinels last spring.
He'll by joined on the infield by Denno, Mark Donohue, Michael Graney, Ryan Trudeau and Blake Gautreau.
The outfield will feature Woods, Wright, Costello, Anthony Dushane, Jesse Wilson and Jarryn Granger.
Wright, who was Ti's top hurler a year ago, returns to the mound. He's joined on the hill by Denno, Graney, Trudeau and Granger.
Bush and David Bevins will handle the catching duties.
"We must play solid defense and buy into the concept of the team and we hope to be competitive in every game," Dorsett said.
Helping Dorsett in the dugout will be assistant coaches Rick McClintock and Scott Nephew.
Vote on this Story by clicking on the Icon