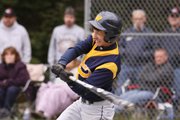 Burgher schedule
April 22 Hartford
April 24 @H. Luzerne
April 25 Hudson Falls
April 26 Bolton
April 29 Whitehall
May 1 H. Luzerne
May 3 North Warren
May 6 Argyle
May 7 @Cooperstown
May 8 Lake George
May 10 @Corinth
May 13 @Salem
May 15 Fort Edward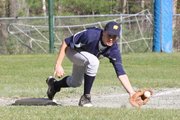 Warrensburg — Two years ago, the Warrensburg High School Boys Baseball team had a lineup of powerful athletes who took their team to the Section II finals, beating several top-seeded teams along the way.
After losing John Joseph, Mike Curtis and others to graduation, the team experienced a rebuilding year that had a dreary 0-5 start — but the team rebounded, finishing off with a respectable 9-7 record in the Adirondack League and 9-9 overall.
This year, the team lost no less than six seniors to graduation: Lucas Nelson, Tyler Williams, Austin DeMarsh, Jacob Siletti, Gabe MicGlire and Chris Cupp — but the returning veterans have already exhibited their depth of experience.
Topping off the lineup are senior Justin Baird, pitcher and shortstop; plus sophomores Shea Irish, pitcher and third baseman; and Marcus Perrone, shortstop, pitcher and outfield. They are joined by senior Nolan Maltbie as first baseman and pitcher, seniors Jeff Bentham in center field, Beecher Baker on second base, Pep Perrone as catcher, with Will Yarmowich and Joe Brunelle in the outfield. Chris Persons assumes the duties of designated hitter.
Varsity Coach Rex Reynolds, in his 11th year, said this week that the 2013 season holds a lot of promise, adding that Irish "works his tail off," and that Baird is "gritty," — and Baird's attitude is likely to be adopted by the younger players on the team.
Reynolds said the team focuses on one game at a time, and has been engaged in strength workouts and speed training, which should help not only their base-running, but their defense.
(Continued on Next Page)
Prev Next
Vote on this Story by clicking on the Icon