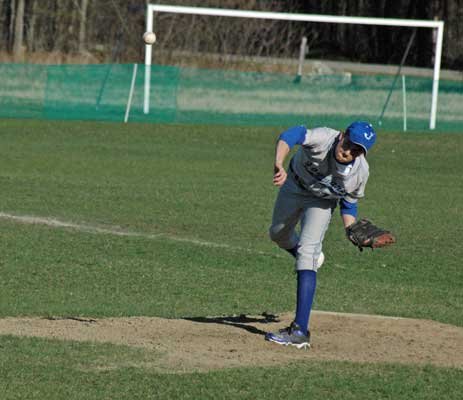 Newcomb — At first glance, a 16-player roster for the Minerva-Newcomb varsity baseball team sounds impressive, but veteran Coach Ed LaCourse is faced with several challenges this season that could prevent the team from beating its 6-4 record last season.
"It's a weird season," said LaCourse, a teacher at Newcomb Central School. "I have no idea where we're going to end up this year."
The first question mark is the group of six international students. They've never played baseball before.
"It's more of a challenge for me because when you're coaching at the varsity level and you end up having to deal with some of the most basic skills that are usually done at Little League level, it kind of slows things down at times," LaCourse said. "I've decided they're just going to have to basically come along with whatever gifts they have."
That's not necessarily a bad thing. Last year, for example, the team was fortunate to have one player from Brazil who caught on quickly and ended up being an All-Star caliber player. And there are currently a few international students who have the potential to be good ball players.
"They've never played, but they've got the athletic ability and they are coming along at an accelerated rate," LaCourse said.
One standout could be Bryton Chikukwa, of Zimbabwe, who has played on the Mountaineers' soccer and basketball teams this year.
"I've never seen a kid hit a ball so hard in my entire life," LaCourse said about Chikukwa. "He's never hit a baseball in his entire life, but he hits it like he's Hank Aaron."
(Continued on Next Page)
Prev Next
Vote on this Story by clicking on the Icon