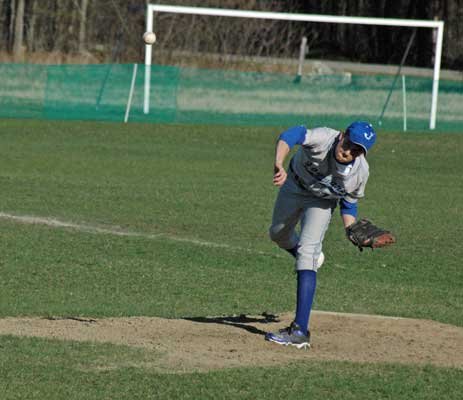 continued — Hitting a ball in a batting cage is one thing; hitting during a game situation is another.
"He's never been in a game situation and faced a pitcher," LaCourse said. "It's just a big question mark whether he'll pan out or not. He could be a monster hitter. The kids don't even want to get out there when he's hitting because he's just cremating it."
Another challenge this year has been the weather, with snow on the ball field late in the season. Coach LaCourse was hoping to teach the inexperienced players the baseball fundamentals on the diamond, but their inability to go outside and practice on the field "has just destroyed those plans," he said. The weather also forced the cancellation of four scrimmages.
There's only such much the team can do inside. Last week, LaCourse was desperate for a change and decided the team needed some fresh air.
"I had them out in the snow yesterday with boots on," LaCourse said Thursday, April 11. "I got pretty desperate. I hit them fly balls in the snow."
If the Mountaineers are going to make a move anytime in the next few years, this is the season, and LaCourse is hoping his four returning seniors will lead the way with their solid hitting and defense: Austin Williams, Wesley LaBar, Tyler Clickner and Justin Viele.
One bright addition to the team is Andrew Sponable, a Newcomb Central School sophomore who played for the Jaguars in 2012.
"He pitched well for Johnsburg last year, and this year he's bigger and stronger," LaCourse said. "I was a pitcher, so I've been able to work with him. He looks very good."
The pitching rotation also includes seniors Wesley LaBar and Austin Williams.
Here is the roster for the 2013 Mountaineers: sophomores Andrew Sponable, Mickey Johnson, Steven Viele, Dustin Saville and Elias Ahrens; juniors Jorge Bertomeau, Borja Martinez, Alex Ruzbacki, Jacob Galusha and Marco Silvo; and seniors Tyler Clickner, Austin Williams, Wesley LaBar, Justin Viele, Xian Zhou and Bryton Chikukwa.
The Mountaineers were expected to open their season at home against Johnsburg on Wednesday, April 17 and had games scheduled for Friday, April 19 in Elizabethtown and Saturday, April 20 at home against Chazy.
Vote on this Story by clicking on the Icon