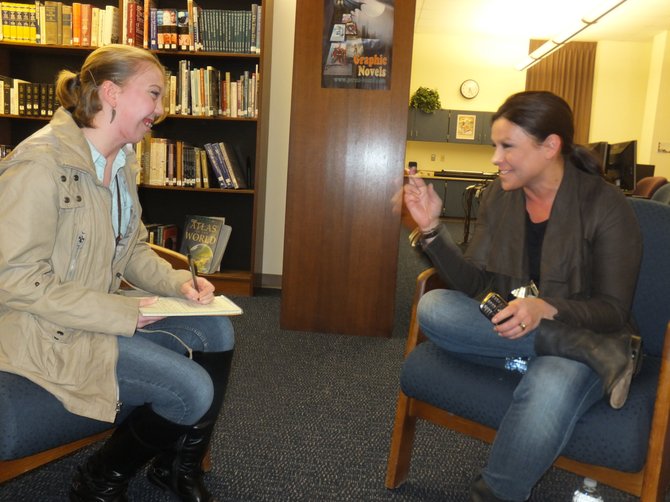 LAKE GEORGE — "I feel like Santa at the mall!" international celebrity Rachael Ray exclaimed midway during an interview with area media representatives prior to her annual scholarship benefit show Saturday Aug. 12 at her alma mater, Lake George High School.
The room broke into laughter.
In a display of cheerfulness, charm and charisma, Rachael Ray shared banter, news and laughter with press, television and radio reporters for more than a half-hour.
Seeming genuinely pleased to be in her hometown, the internationally renowned television star shared her thoughts and plans for a very busy 2013.
Rachael spoke passionately about her work with the First Lady Michelle Obama's program for kids "Let's Move" and her fight against childhood obesity with the Children's Initiative. Her other charities include her Nutrish dog food line — set to expand to cat food this year — in which all net proceeds go to animal rescue.
Also, Rachael has donated $500,000 to the ASPCA to construct a shelter for animals victimized by Hurricane Sandy. The 20,000-square-feet shelter opened in September.
Asked about her favorite destinations during her many visits to her home in Lake Luzerne, Rachael grinned.
"The Harvest is always my first stop," she said. "I've been going there for the same pizza since I was 12, and I still get the same pizza — only now I get to sit at the bar and feel like a big kid!"
She continued that her other favorite local food-related destinations include the Lake George Bakery, Montcalm Restaurant and Ridge Terrace.
"But I like to cook at home when I'm home," she laughed. "Maybe I'll even get my mom to cook for me!"
Rachael said that despite her fame and influence stemming from her Manhattan-based television show, she is happiest here in the Adirondacks.
"It's home and nothing feels better!" she said. "My favorite part is coming along Route 9 past the Great Escape and catching my first glimpse of those mountains."
(Continued on Next Page)
Prev Next
Vote on this Story by clicking on the Icon