Orange schedule
April 22 Argyle
April 23 @Luzerne
April 24 North Warren
April 26 Luzerne
April 29 @Fort Edward
May 1 @North Warren
May 2 Corinth
May 6 @Hartford
May 8 @Warrensburg
May 10 Bolton
May 13 Fort Ann
May 14 @Glens Falls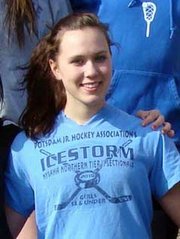 Long Lake — One of the newest members of the Indian Lake-Long Lake varsity softball team will be the coach, Long Lake Town Highway Superintendent Chip Farr.
This is Farr's first year of coaching, ever, but he's no stranger to the ball field.
"I have umpired for the Southern Adirondacks for eight-plus years," he said.
In his spare time, Farr works for the Long Lake Central School District, so he's already familiar with many of the softball players.
"I know the kids," Farr said. "I drive the school bus part time for Long Lake, so I got to know the team pretty good, and when they were looking for a coach I decided to put my name in."
Like other local softball and baseball coaches, Farr has had to deal with the fickle spring weather this year.
"We've just been practicing inside and doing what we can do inside," Farr said. "We have a hitting cage in the Long Lake gym, so we've been using that, but it's a lot different when you get outside."
Luckily, as of Sunday, April 14, the field in Long Lake was snow-free.
"It's a little soft, but we can still practice outside on it," Farr said.
One of the main strengths for the Lady Orange this year is experience. The team didn't lose one player to graduation in 2012 because there weren't any seniors on the team last year. But 10 of the 11 players this year came back to play for the Lady Orange in 2013. Only freshman Madelyn Penrose is new to the rotation.
(Continued on Next Page)
Prev Next
Vote on this Story by clicking on the Icon