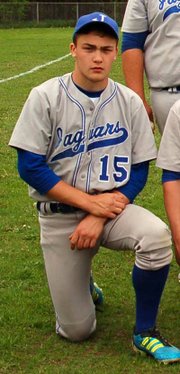 Jaguar schedule
April 18 @ Minerva-Newcomb
April 19 @ Westport
April 24 Indian Lake-Long Lake
April 26 Elizabethtown
April 29 @ Wells
May 6 Keene
May 8 Minerva-Newcomb
May 10 @ Chazy
May 13 @ Old Forge
May 15 @ Indian Lake-Long Lake
May 16 Crown Point
May 20 Wells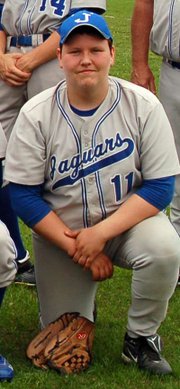 North Creek — After losing longtime varsity baseball coach Tim Leach at the end of the 2012 season, Johnsburg Jaguar fans are putting their faith in first-time coach Ryan Carpenter, who took over Leach's teaching job at the beginning of the school year.
"I am excited to be a first year varsity coach," Carpenter said. "I actually remember reading the article in the Post-Star last year about Tim Leach retiring, and he said that the kids were looking for someone different — a new spark. I have been trying to give them that spark. I have been trying to instill a hard work ethic in the kids, and so far, I think they are responding pretty well. I am just hoping it pays off and makes for a successful season."
Overall, the Jaguars will field a young team with many of the 15 players returning from last year: seniors Ethan Cooper, Nick Porter, Kaleb Persons and Chet Prouty; juniors Kyle LaBounty, James Ordway and Dylan Moore; and sophomore Dillon Bradway.
"There will be a lot of underclassmen in the starting lineup," Carpenter said. "Plenty of players with speed and athleticism that can contribute to the success of the team."
Five players were lost due to graduation: Dustin Weller, John Gahan, Liam Harrison, Taylor Ordway and Chris Scott.
Only Porter remains from last year's five-man pitching rotation. With Weller, Harrison and Taylor Ordway gone — plus sophomore Andrew Sponable, who now plays for the Minerva-Newcomb Mountaineers — the Jaguars lost four pitchers.
Players to watch are freshmen Mark Cleveland and Ty Berg and sophomore Nate Prouty. Cleveland will replace Dustin Weller behind the plate.
(Continued on Next Page)
Prev Next
Vote on this Story by clicking on the Icon