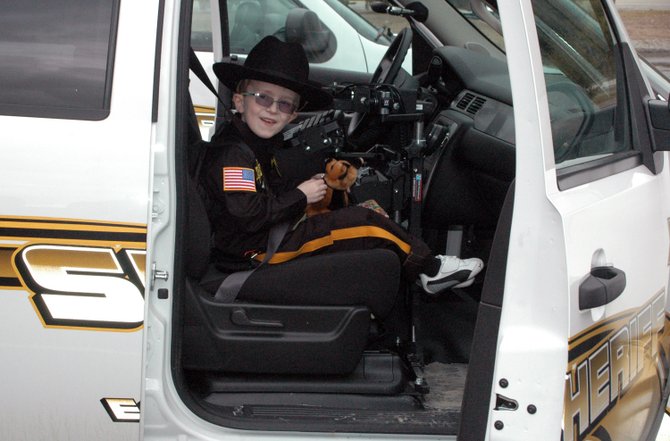 Lewis — It took Matthew Cech little time as a member of the Essex County Sheriff's Department to break his first big case.
Cech, 8 years old and from Plattsburgh, known to many in the North Country as Mighty Matthew, was sworn in by Sheriff Richard Cutting April 13 with a specific case in mind: help the department find the Lollipop Bandits.
Photo Gallery
Mighty Matthew on the case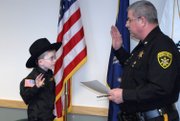 Pictures from Matthew Cech's work with the Essex County Sheriff's Department to help bring down the Lollipop Bandits April 13.
On the line was the safety of suckers everywhere and a reward of 400-plus lollipops for the person who brought the two bandits — known as Bob Rice and Lloyd LaMotte — to justice.
"They said that these guys had stole lollipops, and I love lollipops," Cech said, adding that he has been interested in being a member of a police force because "they have tasers."
Shortly after being sworn in, Mighty Matthew and Sheriff Cutting hit the road on patrol watching for a truck that fit the description of the one being driven by the bandits.
Indeed, Cech was able to spot the vehicle, and a chase ensued along a dirt road in Lewis before the bandits were pulled over and arrested by the newest deputy.
Once in custody, Cech searched the vehicle, finding the evidence he needed, even taking the chance to sample the goods to make sure that it was indeed the lollipops in question.
Following processing and booking, Cech received his reward of lollipops, along with tokens of the sheriff's appreciation, including the "pepper spray" he used to control the suspects.
As for what he would do with the spray, he gently said, "I am looking at you, Steven," referring to his 14-year-old brother, who was made a member of Matthew's posse along with 16-year-old brother Bradley.
For Mighty Matthew, it was another positive day that comes between days of visits to the hospital and therapy as Cech fights against Mitochondrial Disease.
(Continued on Next Page)
Prev Next
Vote on this Story by clicking on the Icon