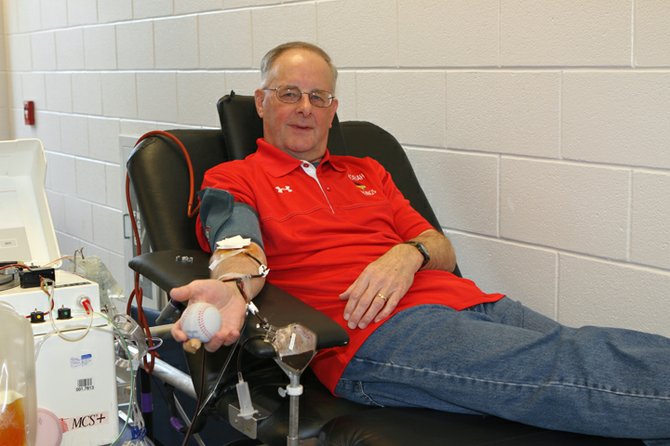 Schroon Lake — The Schroon Lake Central School chapter of the National Honor Society will host an American Red Cross blood drive noon to 6 p.m. Monday, May 6, in the auditorium of Schroon Lake Central School.
"Our goal for this drive is 60 pints and we hope to surpass this amount," said Mitchell Beers, blood drive coordinator. "Come be one of the nearly 10 million Americans that donate blood every year. Each pint has the potential to save three lives."
People interested in donating at the blood drive can make an appointment by contacting Beers at Mitchell.beers@yahoo.com or 791-8176.
Nationwide, about 44,000 blood donations are needed every day to meet the needs of accident victims, cancer patients and children with blood disorders.
All blood types are needed to ensure an adequate blood supply is available, especially type O positive, O negative, A negative or B negative blood.
Although sponsored by the National Honor Society, many Schroon Lake students will be involved.
"There are numerous students in the school who are personally participating by donating their own blood, as well as many students volunteering their time to set up and run the blood drive," Beers said. "These include NHS members, but also other students just looking to help out. Overall, around 30 students will be involved in the project."
During the Schroon Lake blood drive donors will have an option to give whole blood or double red cells.
"Double red cell donation is similar to a whole blood donation, except a special machine is used to allow you to safely donate two units of red blood cells during one donation while returning your plasma and platelets to you," Beers said. "Whole blood donations contain red blood cells, platelets, plasma and white blood cells. Red blood cells are the most frequently used blood component and are needed by almost every type of patient requiring transfusion. If you meet certain criteria, double red cell donation allows you to safely donate two units of red cells during one appointment. We are sponsoring both forms of donation at the SLCS blood drive."
A blood donor card, a driver's license or two other forms of identification are required at check-in. Individuals who are age 17 and older, weigh at least 110 pounds and are in generally good health may be eligible to donate blood. High school students and other donors age 18 and younger also have to meet certain height and weight requirements.
For eligibility requirements and more information visit www.redcrossblood.com
Vote on this Story by clicking on the Icon