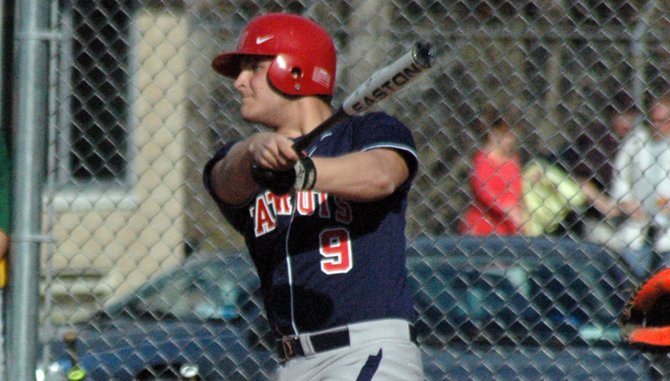 continued — Team members also include juniors Elias Smith and Josh Ducharme; and sophomores Michael Bussiere, Justin Cook, Jacob Ashline, Cody Furnia and Elijah Christian
Tennis
The AuSable Valley Patriots will field a full tennis squad in 2013, said head coach Jay Hamilton, including the return of a boys team.
Members of the boys team include seniors Paul Ford, Nate Casey and Noah Lawrence; freshmen Connor Courson and Joshua Lucia; along with eighth graders Sky Hanf and Warren Daniels.
"The girls are back with returning senior Michaela Courson as well as a returning sophomore and several athletic freshmen," Hamilton said.

The girls roster includes Courson along with sophomore Emily Kilburn; freshmen Katherine McDonald, Ashley Guynup, Brittany Smith, Madison Hall, Alexis Willett, Alyssa Hart, Hannah Lawrence, Emily McDonald and Rachel Durrand; eighth graders Angela Weller and Ashley Martin; and seventh graders Hannah Rondeau and Lillian Wilson.
Golf
The AuSable Valley Patriots varsity golf team said goodbye to Jaqueline Hoey and former Section VII Champion John Hickey after the 2012 season and will look for new faces to lead the squad in 2013.
"We are a young team with only one senior but return golfers who are capable of continuing that success," coach Chris Dubay said. Returning players who started at least one match last year are Ridge Perkett, Ian Rennie, Riley Taylor, and Nate Devins. Returning players competing for a starting spot include Lucas Finnegan, Noah Martineau, and Chris Hickey. Newcomers competing for a place in the top six are Kyle Hart and Jocelyn Racette."
Dubay said that the team enjoys the game and has worked throughout the year to get better.
"They started working on their game as soon as the season ended last year," he said. "The team may not be able to compete with front runners Peru and Saranac Lake, who should be the top teams, but they will try to improve on last year's record and hope to be playing their best golf come sectionals."
Vote on this Story by clicking on the Icon