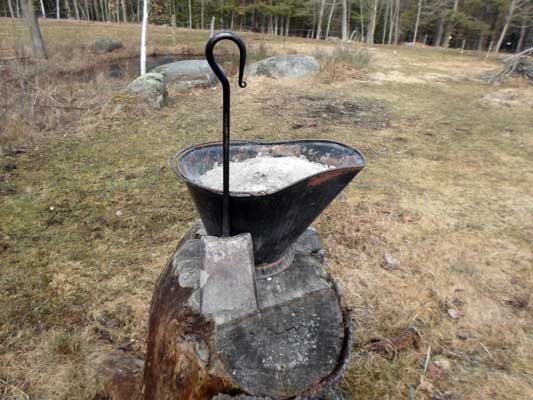 Spring is here and the woodstoves will be going into the summer mode. They will be shut down and cleaned out, semi-retired for the season. Wood ash will be shoveled out and put into ash buckets and dumped over the bank, along with the winter's worth of cleanings, probably 5 to 10 buckets worth.
Whoa, let's backtrack in time, and reevaluate what we have here. Wood ash is not a waste product. Wood ash is a valuable natural resource, from a renewable resource — trees! This so called waste product has many uses.
First let's look at where it came from, and then we will figure out where it should go.
A tree starts out as a seedling, and then grows to a sapling, then to a small tree or pole timber, then to a saw log, and finally to old age, unless Mr. Stihl or Mr. Husqvarna decide to intervene, and turn the tree into a log for boards or for fire wood. Culling out damaged, diseased or inferior species of trees for firewood or other wood products are sound forestry and silvicultural practices and should be encouraged, not frowned upon. Try to leave a few dead trees per acre for cavity nesting birds.
As a tree grows, the nutrients and water in the soil are taken in by the root hairs and transported throughout the tree. Nutrients and minerals such as nitrogen, phosphorus, potassium, magnesium, calcium, iron, and other trace minerals are taken in through the roots, which also support the tree. Much of what is taken up depends on what is in the soil. Rich soils versus nutrient poor soils make a difference in the quality of the tree, type of tree and nutrients in the tree. Some trees like aspen (popple) are higher in calcium, while others have different ratios of minerals in them.
Rich Redman is a retired District Conservationist for the USDA Natural Resources Conservation Service and an avid outdoorsman. His column will appear regularly. He may be reached at rangeric@nycap.rr.com.
(Continued on Next Page)
Prev Next
Vote on this Story by clicking on the Icon